Video presentation by Natalie Richy
Old Masters Academy offers far better value than any contemporary art college
Online Course
A self-study, self-paced online video course for you to improve your oil painting skills and learn how to paint with modern materials using traditional techniques of the Old Masters
Instant access to all 61 multi-part video lessons
Lifetime membership without deadlines
Unlimited support from the Academy tutors
Constructive critiques of your artworks
Member access to the Academy's Art community
Place in the Academy's Students Gallery
Members-only newsletters and bonuses
Old Masters Academy™ Diploma of Excellence
Lifetime membership
One-time payment: $487 USD
Correspondence Course + Online Course
The ultimate choice if you who would like to receive personal, custom-tailored, one-to-one tutoring from the Academy teachers, which is custom-tailored to your skills and needs
Everything in Online Course, plus:
Dedicated team of art tutors
Assessment of your current level of art skills
Personalized curriculum tailored to your skills and goals
Up to 50 practical tasks with by-task assessment
Unlimited one-to-one personal coaching with detailed per-task instructions and feedback
Artwork critiques and results-oriented guidance
Lifetime membership
One-time payment: $997 USD
---
Why Old Masters Academy is unique:
The Old Masters Academy course is the only place where you can learn time-honored oil painting techniques of the Old Masters – no other colleges or universities offer the same curriculum.
This is the only place where you will get unlimited, one-to-one personal art tutoring for a very low one-time fee.
In the Correspondence Course, your art skills will be thoroughly assessed, and an individual custom-tailored curriculum will be provided for improving your oil painting skills and achieving your art goals.
Here you can rely on unlimited personal support that includes artwork critiques and answers to your art questions by the Academy tutors. This support comes for a lifetime at no extra cost.
The information on oil painting techniques of the Old Masters is based on scientific research by numerous restorers from various art museums worldwide.
The course curriculum is designed as a complete step-by-step system of both theoretical and practical knowledge from art vocabulary and art materials to How to Paint Like the Old Masters Using Modern Materials™.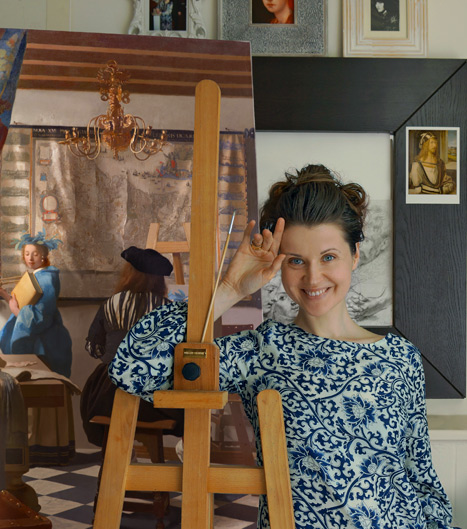 ---
How you will benefit: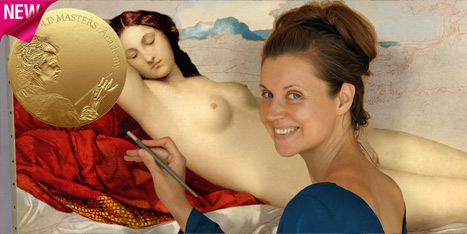 You will discover the almost forgotten painting techniques of the Old Masters. Going through video lessons is like sitting next to the artist and watching over her shoulder how pieces of artwork are created from a blank canvas to a finished masterpiece step-by-step.
You can benefit from extensive research of many art experts, restorers and professional artists that has been collected, analyzed and used for creation of this course.
You can benefit from a personal art tutor, who will support you all the way over the Internet.
You can also benefit from exhibiting your artwork in the Old Masters Academy™ Students Gallery.
Get constructive critique of your artwork by the tutor, as well as receive feedback from your peer group of fellow students.
Is this course for you?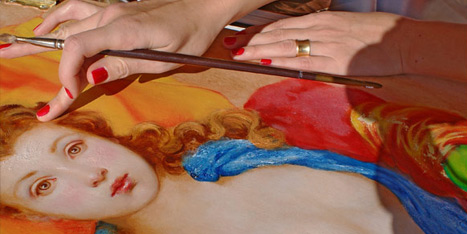 The Old Masters Academy™ course is very comprehensive, yet totally beginner friendly. Even if you haven't spent a single day in an art college, you will be able to understand and follow the course curriculum. All you need to do is watch video lessons one by one and use what you've learned in your creative projects.
At the same time, even advanced artists will find this course tremendously useful, as it teaches painting techniques not available from contemporary art colleges and universities.
This is the best art learning experience you can have without leaving your home. All information is delivered online, including personal support by the course tutor.
Here's how the Old Masters Academy Correspondence Courses compare to an art college:
| | Contemporary art college | Old Masters Academy™ Online Course | Correspondence Course + Online Course |
| --- | --- | --- | --- |
| Traditional Old Masters painting techniques | Not taught | It's the core subject of the course | It's the core subject of the course |
| Art tutors | Limited to period of college enrollment | Dedicated team of tutors available for a lifetime | Dedicated team of tutors available for a lifetime |
| Personal, one-to-one tutoring | Not applicable | Not applicable | Unlimited, provided for a lifetime |
| Individual curriculum | Not applicable | Not applicable | Bespoke curriculum tailored to student's skills |
| Painting and drawing video lessons | Not available | 60 video lessons on how to paint and draw | 60 video lessons on how to paint and draw |
| Tutors showing painting techniques by own example | Not applicable | You can watch video lessons as many times as you want | You can watch video lessons as many times as you want |
| Location | Have to travel/relocate | Learn in the comfort of your home | Learn in the comfort of your home |
| Timing | Limited to college hours | 24/7, 365 days a year for a lifetime | 24/7, 365 days a year for a lifetime |
| Deadlines | Inflexible schedule | Self-paced study, no deadlines | Self-paced study, no deadlines |
| Personal support | Limited to college enrollment | Unlimited, provided for a lifetime | Unlimited, provided for a lifetime |
| Artwork critiques | Limited to college enrollment | Unlimited, provided for a lifetime | Unlimited, provided for a lifetime |
| Answers to art questions | Limited to college enrollment | Unlimited, provided for a lifetime | Unlimited, provided for a lifetime |
| Art Community | Not available | Old Masters Academy Art Community | Old Masters Academy Art Community |
| Real value of the Course | Uncertain | $5,940 (60 lessons at $99 each) | $10,000 (50 tasks at $200 each) |
| Discount | None | 93% | 94% |
| Payment schedule | Recurring Yearly | One-time Fee | One-time Fee |
| Total Cost, USD | $50,000-100,000 | | |