Art Lesson 17
Discover Brown Colors – Earth Oil Paints for Glazing Techniques
Learn how to paint like the Old Masters!
Get the complete Old Masters Academy™ course for only $487
ENROLL NOW!
« Back to the Art Lessons List
Brown Colors – Earth Oil Paints for Glazing Techniques
Here, we see the Chart made with Brown Colors. We are testing their characteristics in a transparent state – in Glazes. We have created this Chart by analogy with the Warm and Cold Colors Charts, as we saw previously.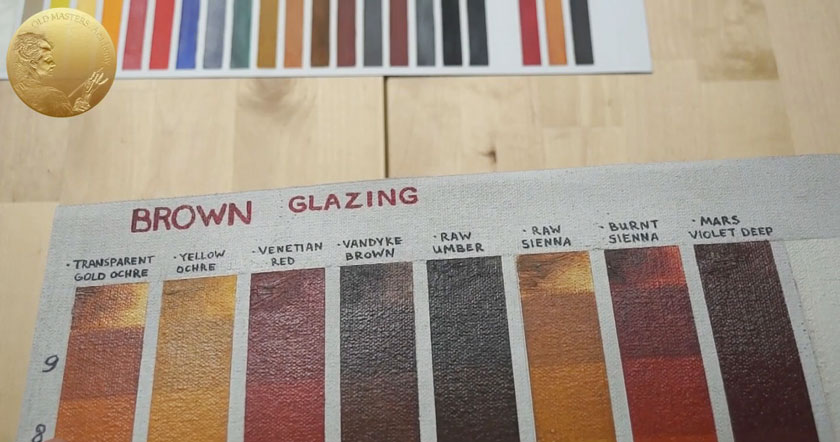 Earth Colors originated from clay earth pigments. They include Umbers, Ochres, and Siennas. The Venetian Red presented here was broadly used during the Italian Renaissance under the name of "Red Earth" Color. The only Color that does not strictly belong to the Earth Colors is Mars Violet Deep, which we placed here because of its Brownish Color.
Earth Colors played huge role in the paintings of the Old Masters. It was the predominant Palette of Rembrandt and Titian and the base Palette of all the other Old Masters.
All these Umbers, Ochres and Siennas might look boring, especially the Ochres, which look questionable and unattractive. Yes, the Ochre itself, from the tube, doesn't look promising. Misuse of Earth Colors creates messy results that lead to disappointment about this really unique, highly reliable and extremely "must have" Paint. It really has a mind-blowing potential. Just look at Rembrandt's paintings. However, it's a pity that so many artists don't know how to use Ochres effectively. I should confess that when I was a student, I didn't like to use Earth Colors, especially Ochres. I might say I never used Ochres because I didn't know how to use them. Only many years after graduation, when I self-educated myself with a great help from the Old Masters, I finally started to gain an understanding of the Earth Colors.
Earth Colors are Warm Colors and mostly Transparent. These characteristics are ideally suitable for Glazing over cold and light Underglazing. Please note that Venetian Red is the opposite case – it's Opaque and could be used in both – glazes, as you see here, and we can efficiently use it in Underpainting.
Earth Colors applied in solid coats, or in Impasto layers, do not work out – they simply don't look attractive. Rembrandt, the genius of Earth Colors, used them in an exquisitely smart way. They are either applied on a lighter background with this background showing through, with the illusion that the Browns are illuminated from inside, or in places where he applied them more or less densely and obligatorily Glazed them over with other Earth Colors, making them look deeper. Never finish the painting in dense layers of Earth Colors. You will end up with an unpleasant Brown that reminds… no, no.. not a chocolate.
Look at this fragment of some copies of Rembrandt's painting; Yes, they are made in Earth Colors, the Colors Rembrandt used himself, but you see how wrong they look? This is simply because the Colors were used in a completely wrong way, in a very anti-Rembrandt way. His Browns and Ochres are always shining thanks to the optical illusion he created with Glazes, but the dense coats of Earth Colors are killing the painting.
In the upper row we see pure paint applied thickly in one side of the cell and gradually step down the thickness and spread the Paint evenly.
Transparent Paints show a white background through the applied layer. Ochres and Siennas, being Transparent Colors, are not able to cover the background in one go, even in thick strokes. Earth Colors play important role in painting carnation (skin color), in any kinds of Glazings, whether the glaze is completely transparent or a completely different kind of Glaze. This includes Velaturas, a specific kind of cloudy turbid layer of glaze. The Old Masters were especially keen in exploiting Velaturas. Just look at how Titian depicted a flash. In the The Old Masters .Academy™ Course we will take a look at ways in which Earth Colors could be used efficiently from our Palette.
What you need for the task:
Worksheets #7
Prepared Support – Canvas, Canvas Board or Oil Painting Paper A3
Masking tape
All Earth Colors (Umbers, Ochre, and Siennas) you want to test
Hog or/and Synthetic Brushes + Wide Flat Synthetic Brush for smoothing
Palette Knife
Liquin Original
Learn how to paint like the Old Masters!
Get the complete Old Masters Academy™ course for only $487
ENROLL NOW!