Art Lesson 3
Discover what Art Vocabulary is used in the Old Masters Academy™ course
« Back to the Art Lessons List
Welcome to the Old Masters Academy™ online art course!
Throughout this Course, we use art-related terminology. This document will help you to familiarize yourself with Elements of Arts as well as Art Vocabulary, so next time you come across some art lexicon you will understand the meaning of various art expressions.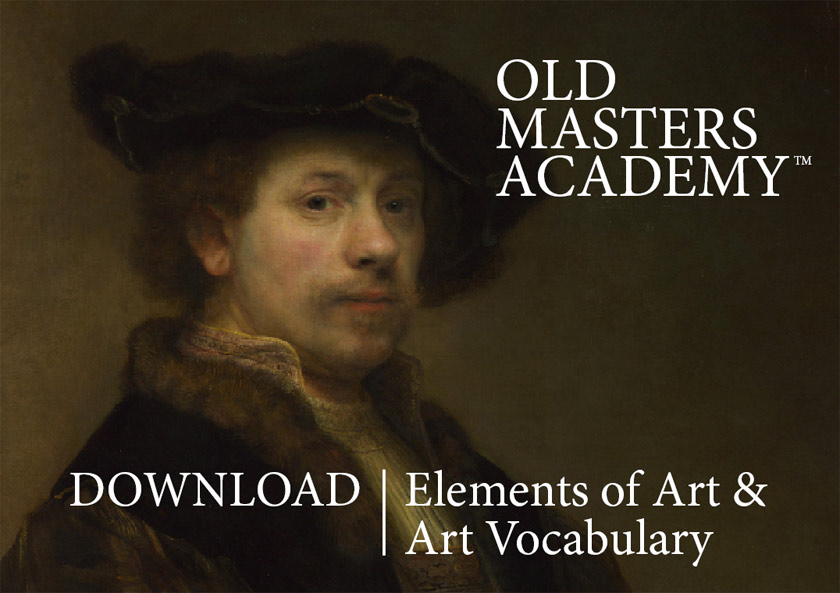 How can we analyze art?
Fine Art is Measurable and Analyzable, even though some try to convince us that Art is too ephemeral for that.
Any piece of art has more or less objective criteria that can be taken into consideration when we try to understand what we like about it and why we like it. And on the contrary, being able to formulate and describe reasons why we find piece of artwork to be not really successful.
As far as a painting has a physical presence – a Body, we can analyze it using the rules of harmony that are universal and barely changed for centuries.
Visual Art in general and painting in particular are as measurable and analyzable as other liberal arts like, let's say, music or architecture. We analyze their elements and how harmoniously they are composed. In music, there is musical notation, rules of harmony and composition. In Classical Architecture – there are building typology, classical orders, theory of form, perception of form, space planning and other criteria that could be analytically decomposed.
Visual Art, in particular painting, also consists of its Elements. Once you know what the elements are, you can efficiently use them practically while creating art or theoretically when analyzing your own artwork. Such knowledge also widens your art horizons, letting you analyze the works of other artists and especially works of the Old Masters. Understanding what real qualities of Old Masters' paintings are, we would be able to dig deeper than just the simple explanations such as: "I like it because I like it." "There is something in it." "It moves me and inspires me; and yes, the character has a lovely face expression."
You have to go beyond stereotypical phrases by being able to explain WHY you like or dislike it and WHAT exactly impresses you. This is a professional approach.
All Elements of Art described below will help you to understand whether they have been used efficiently in the creation of art and what elements were ignored or used half capacity.
So, what are the Elements of Art?
Let's start with the basic Elements of Art we are going to use in the Old Masters Academy™ Course