Various Oil Painting Methods
In this lesson, you will discover How to Make an Imprimatura
Learn how to paint like the Old Masters!
Get the complete Old Masters Academy™ course for only $487
ENROLL NOW!
« Back to the Art Lessons List
How to Make an Imprimatura
You can paint straight over a White primed canvas, but if you find it's better for you to have an off white background, you can cover your luminously white priming with a transparent, I have to stress it – a transparent coat of a color is called Imprimatura. "Imprimatura" – can be translated as "first paint layer" from Italian. You see here one White primed canvas and another one – already covered with Imprimatura – with a warm and transparent layer of paint.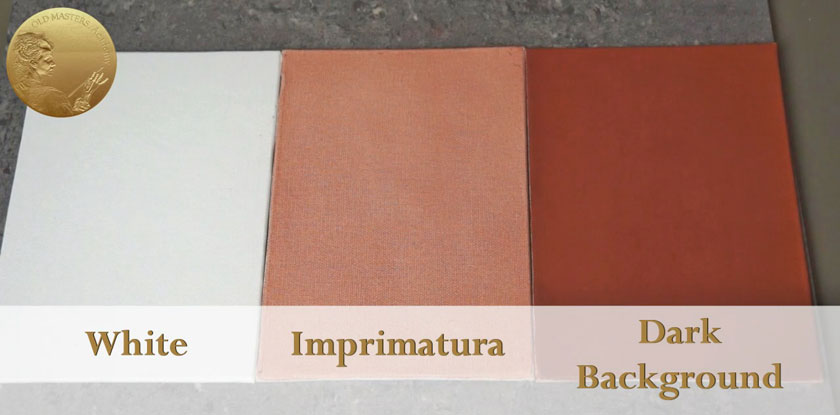 Here, you can see how the canvas looked before the Imprimatura was applied.
As a paint diluent, we have Artists Low Odour White Spirit or alternatively, we could use Turpentine. For creating an Imprimatura layer, the Old Masters traditionally used warm Earth Colors – we do the same. We choose Burnt Sienna because this paint has transparent characteristics and is a very beautiful color.
We also need some stiff Hog Brushes; soft hair brushes will not suit. We chose one Round Hog Brush #7, and one a bit larger, a #10 Brush.
We are generously diluting the Paint with White Spirit, in such proportions that remind us of a watercolor consistency.
Then, we apply that liquid paint to the canvas with energetic circular movements. Try not to overload the brush with the paint – take a bit and spread it around by rubbing it into the canvas. There shouldn't be too much paint on the surface.
Then, we take the usual flat "Decorator's" Brush, also with stiff hair. It should be clean and continue to spread paint evenly all over the surface. We can also wipe off the excess paint from the brush with paper tissues.
If you want to make the Imprimatura a bit darker, wait till this first layer dries. That happens the next day or in two days (depending of the room's conditions), as the layer is extremely thin and diluent evaporates fast. When the surface is completely dry – repeat the same process of applying and spreading the paint. The only thing is, we have to dilute the paint in a larger quantity, as we need to darken the tone of the Imprimatura just slightly. If you think that you have added too much paint and the Imprimatura becomes darker than intended, you can absorb the excess paint with the paper tissues; then, spread the remaining paint evenly.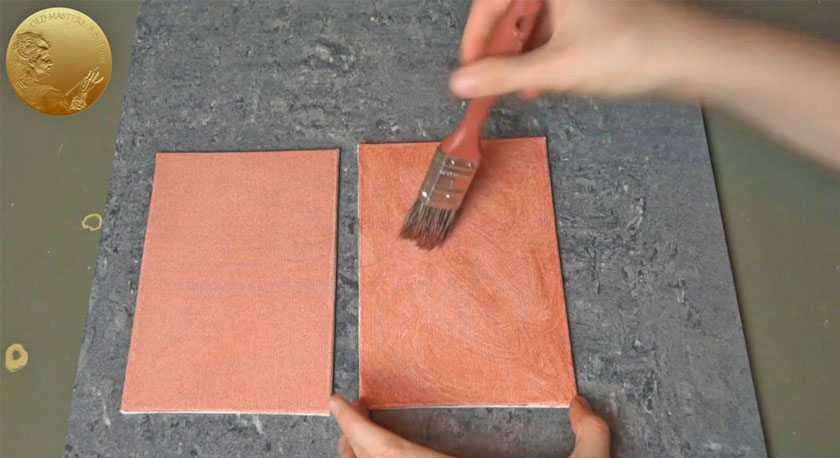 Now, we have identical canvases. You see that the transparency of both canvases is similar.
So, why should the Imprimatura be transparent? The luminous white ground will work further during the process of painting, showing through the Imprimatura. It plays a similar role to how light goes from outside through a stained glass.
We can cover the canvas evenly as we do here or unevenly though adding some movement and nerve for your next painting process. I usually use an uneven Imprimatura, as the Old Masters did – it adds a picturesque mood from the very first layer. But here is a completely different case – I have to cover many canvases, making them as identical as possible, so it's much easier to achieve the same result by making an evenly applied Imprimatura.
When we apply a paint that is just slightly diluted with White Spirit or Turpentine – we got a less transparent paint. And the less transparent it is, the darker and more solid the background becomes.
Such dense opaque background is not welcomed – it can be a timing bomb that can dramatically influence the state of the painting. Just look at Caravaggio's followers who were fond of dark backgrounds and whose paintings are almost ruined because of that dark background showing through the discolored light passages. In the strict sense, the opaque coat of paint is not an Imprimatura any more, but simply a colored ground.
We decided to create all our oil painting technique exercises over such transparent layer of Imprimatura.
Learn how to paint like the Old Masters!
Get the complete Old Masters Academy™ course for only $487
ENROLL NOW!