Art Lesson 42, Part 10
Discover how to Paint Folds
Learn how to paint like the Old Masters!
Get the complete Old Masters Academy™ course for only $487
ENROLL NOW!
« Back to the Art Lessons List
How to Paint Folds
As you may remember, we started the painting of the dress with a White Grisaille over a Brown Brush Sketch. In the next step, we cover the already dried Grisaille with a transparent white Glaze. When the White Grisaille of the Underpainting has dried, we are ready to continue with some Color Glazes.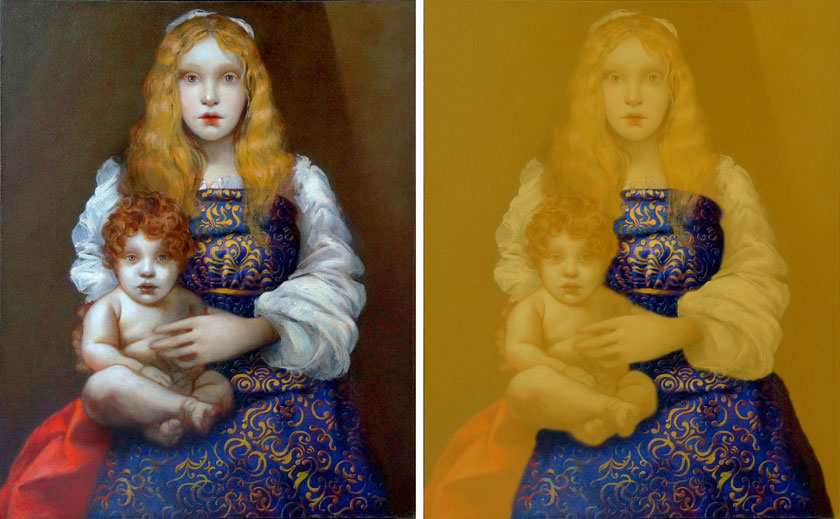 Session One
Let's start with a Blue Glaze. The Glaze is prepared with Stand Oil. The main color in this mix is Ultramarine, and a little bit of Burnt Umber is added to make the blue tint less intense. A rigid Hog Brush is used to apply this Glaze.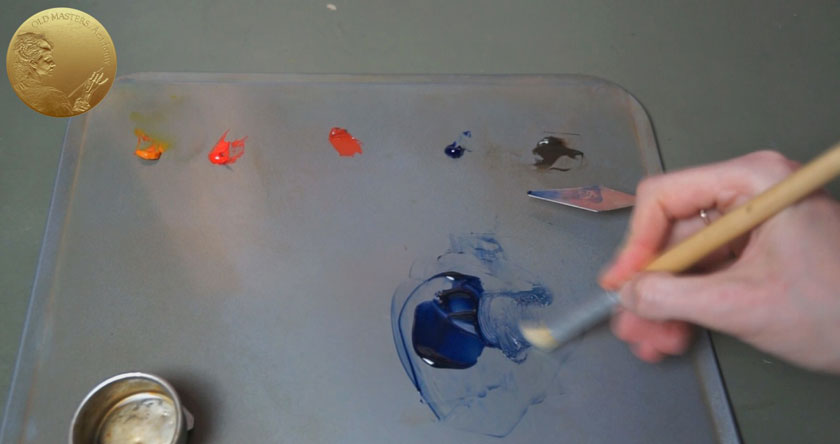 At this point, the Grisaille Underpainting should be completely dry. Spread the Glaze over the whole surface, including lighted and shaded areas. Paint this layer very thinly.
The shadows can be enhanced by a less thinned Ultramarine. This transparent but dark mix is applied over the wet, Blue Glaze. Now we can put the painting aside to dry.
Session Two
This is our Second layer of Glaze over the dry painting surface. Try the Glaze on a spot, if you feel it's too transparent, add more paint to it. Use a stiff brush for this step; a Hog Brush will do the work perfectly. There is no need in smoothing out the layer – it is OK to leave the vivid traces of brushstrokes.
Session Three
This is the third layer of Ultramarine Glaze. In this way, a bright and luminous color builds up. This would not be possible to achieve by direct painting.
The shades can be enhanced with pure undiluted Ultramarine. This paint can be added while the blue Glaze is still wet. This allows a smooth transition between shades and lights.
Session Four
When the surface dries, a new Glazing layer can be added. This is Burnt Umber thinned with Stand Linseed Oil. Excessively bright blue can be toned down a bit. However, the luminosity of the dress should be preserved.
Session Five
When the surface dries, we can proceed with Highlights. A pure Titanium White, thinned with Stand Linseed Oil, is used to sketchley mark the lightest places on the folds.
Session Six
For the next Glazing layer, Scarlet Lake paint is thinned with Stand Linseed Oil. This red mix is painted over the blue dress in a very translucent coat.
The combination of the blue Underpainting with the transparent red Glaze creates an optical illusion of a violet cast. This effect is ONLY possible to achieve by superimposing transparent layers of paint.
Learn how to paint like the Old Masters!
Get the complete Old Masters Academy™ course for only $487
ENROLL NOW!