Art Lesson 7, Part 1
In this lesson, you will discover what The Best Supports for Oil Painting are
Learn how to paint like the Old Masters!
Old Masters Academy Online Course
Self-study, self-paced online video course Lifetime membership One-time payment:
$487
Enroll Now!
Personal Tutoring online + Online Course
Unlimited tutoring by the Academy teachers Lifetime membership One-time payment:
$997
Enroll Now!
« Back to the Art Lessons List
The Best Supports for Oil Painting
How to choose Canvases for oil painting is a very important topic and we are going to cover it in this Video Lesson.
So, how do we choose reliable support for our Oil Painting techniques' exercises, Color Theory tests, sketches; and finally for our own artworks?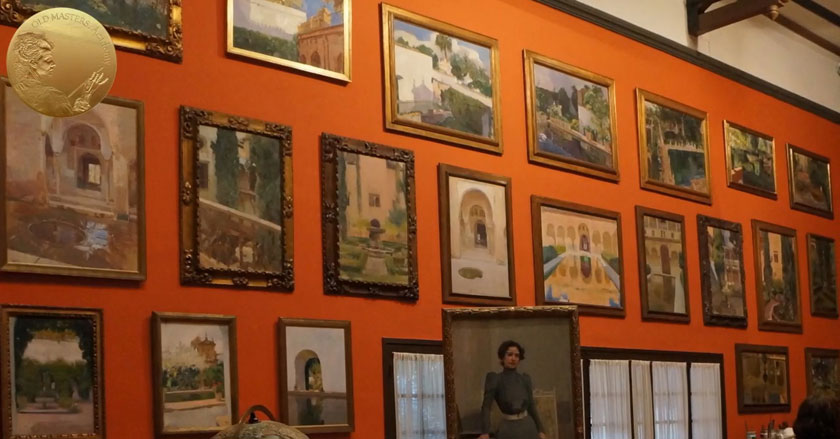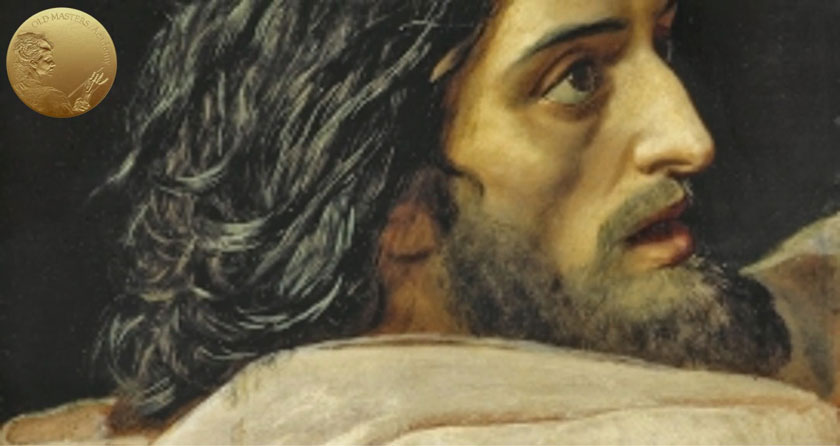 You can consider the following options:
Paper for oil painting
Unstretched canvas
Canvas board
Pre-Stretched Canvas – ready to paint canvas
Self made Stretched and Primed Canvas
Let's start with an overview on supports needed for our first task, Color Theory tests. For this, we need a simple and reliable support.
All of these exercises could be done on an Unstretched Canvas or special Oil Painting Paper.
Paper for oil painting
Let's have a look at paper. This is a high quality paper specifically designed for oil painting. Such Oil Painting Paper pads are very popular, especially for sketching purposes and painting exercises. They can be found in major art supply stores and they can also be ordered on the Internet. Oil Painting Paper has a lot of advantages over the unstretched canvases and canvasboards: first of all, it's a reasonably priced option. The paper takes minimal storage space and because it's lightweight, it's ideal for travelling, and is very easy to store. It's good to have Oil Painting Paper on hand in case you would like to do small sketches. It's good to have a small stock of painting paper pads in your studio.
The Paper is "ready to use" without any surface preparation. It has an oil barrier that absorbs water, solvents, and binders, while the paint and pigments remain on the paper's surface. You can work on this paper, using the same methods you usually use when working on canvas; so you don't need to alter your methods or choose different mediums to work on Oil Painting Paper. Drying time will be the same as it is for any semi-absorbent surface – the same surfaces as Canvases primed with Gesso have. And finally, there will not be any chalking when Paint dries – the paint's gloss will be the same as on a Gesso primed surface. Also, there is a very significant advantage – the Oil Paper does not cockle if you overdose with solvent; on the contrary, it remains perfectly flat. It is also resistant to cracking. Your oil studies or sketches can be mounted on a board and framed without glass, as the surface can be varnished.
Important: If you are working on heavyweight Watercolor Paper or any other paper that isn't specially designed for Oil Painting, it should be specially prepared with at least two coats of Gesso. However, I wouldn't recommend experimenting with inappropriate paper, as it would misbehave and the chemicals and acidity in the oil paint might damage the paper in long perspective. Just use special Oil Painting Paper – it is a safe solution.
Unstretched Primed Canvas
Look at these Color Theory Exercises and Color Charts – they are done on Unstretched Primed Canvas. You can buy Unstretched Canvas – and choose any tooth and kind of material you fancy. As you see here, we have a few examples of slightly different linen canvases with quite even and smooth textures.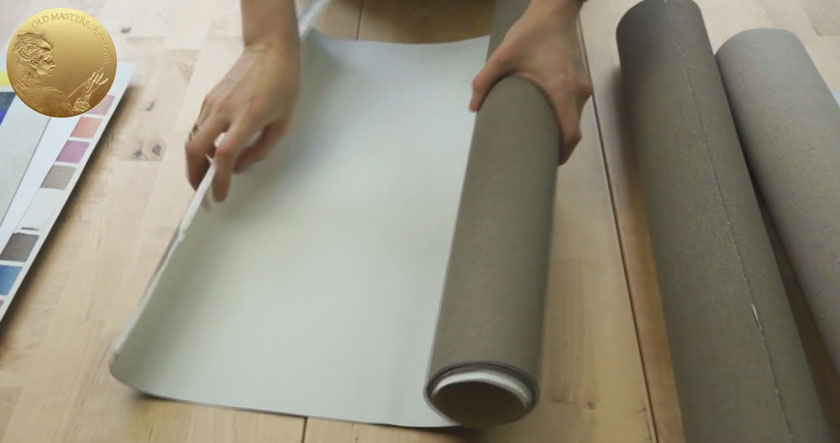 I'll show you one great method for making excellent quality Unstretched Canvas for your exercises. If you have some artworks painted on a standard stretched canvas and by some reason you are not satisfied with your work, do not hurry to throw it away. Do the following: coat the backside of the canvas with Gesso, two or three times; after the canvas is entirely dried out – cut it out of the frame as one piece; if required, later it could be easily cut to a desired size.
Now you have a solid heavyweight support for your painting exercises and sketches. And note that the edges of our self-made primed canvas are not folding.

Canvas Boards
Canvas Boards are suitable for both exercises and for the creation of artworks. Such Canvas Boards are sold in any art-shop and could be used straight for painting without any additional preparation. However, when you use a readymade Canvas Board for creating an important artwork – just apply one additional coat of Gesso on the top.
Pre-Stretched ready to paint Canvas
Pre-Stretched ready to paint Canvas in many sizes can be found in any art supply shop. It's a very handy option with both pros and cons. I prefer to stretch and prime my canvases by myself. When I prepare the canvas with my own hands, I can guarantee that it is of good quality. However, sometimes I'm ready to start a new artwork, but there isn't any self-prepared canvas on hand. It happens from time to time when I'm travelling. It's also OK to use ready-made manufacturer Canvas in the beginning of your career, for unimportant artworks or if no self-prepared canvas is at your disposal. I think it's better to paint on canvas that isn't the best quality than to not paint at all.
Why do I disapprove ready-made Canvases so much? First of all, manufacturers usually use the cheapest canvas possible – such as cotton duck canvas which isn't the best option to choose from. My second reason is rather personal – I do not like the canvas weave of cotton duck. Its character of waves is typical to budget canvas and this look always associate with student level, not professional level. Besides, you never see any "cotton ducks" in museums. This is purely a modern commercial product, manufacturers aim to produce such material with the lowest production cost possible. And the third reason why I try to keep far away from ready-made canvases is a technical reason – it's just pre-primed canvas stretched on a wooden Stretcher Frame. I think here, it is necessary to clarify – when pre-primed canvas is stretched on a frame, micro cracks will appear on the surface. And the stronger the canvas is stretched on a frame, the less reliable the surface becomes. That's why self-made Stretched and Primed Canvas is the best option – we prime canvas when it's already stretched – this way, our canvas is protected from dangerous micro-cracks.
A reasonable question arises – why on earth are such unreliable canvases for sale and no one tells us about their deficiencies? Pre-Stretched Canvases are hot selling products – and this actually explains everything. Purchased Pre-Stretched Canvases can be absolutely safe for acrylic painting, even with micro cracks. But in our case – the oils from the oil paints will seep between the cracks and penetrate the fabric – the fabric becomes brittle, and this will lead to the further deterioration. That's why the canvas must be primed perfectly, with no cracks.
OK, let's see the Advantages of Pre-Stretched ready to paint Canvas. First and foremost – it's ready to use, however the additional coat of Gesso will help fill in micro-cracks. Second advantage is… you just save time outsourcing preparation of your canvas to manufacturers.
Learn how to paint like the Old Masters!
Old Masters Academy Online Course
Self-study, self-paced online video course Lifetime membership One-time payment:
$487
Enroll Now!
Personal Tutoring online + Online Course
Unlimited tutoring by the Academy teachers Lifetime membership One-time payment:
$997
Enroll Now!