Artwork by Wiona Nicola van Huyssteen
My name is Wiona, I am a mother of three beautiful children and love to find quirky and funny things in life to laugh about! My husband and I make silly pun jokes all the time and this painting represents a typical South African dish "Pap en Wors" or Sausage and Mash. The seriousness of the Sausage dog looking regally comfortable in his spot makes me smile every time I see it, and I hope others will too!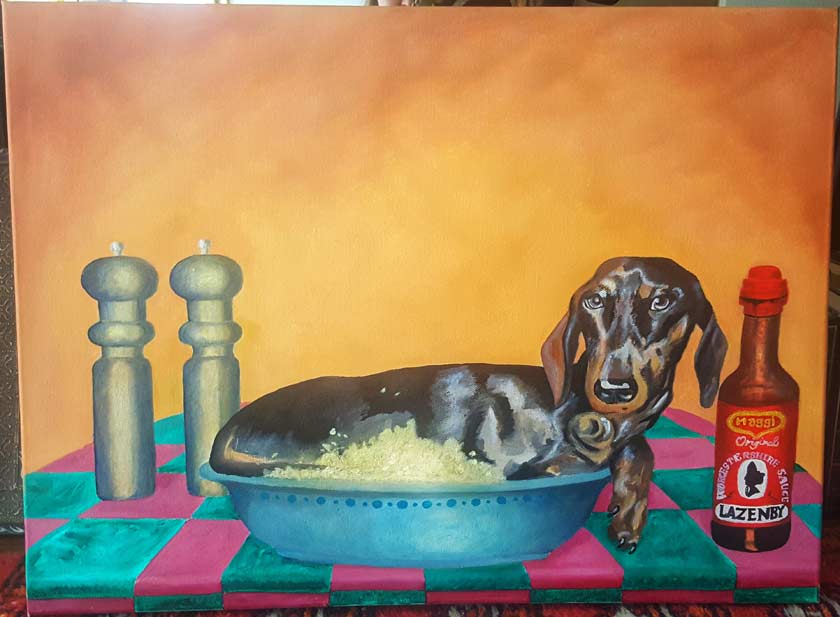 My artistic challenges are to fully utilise the capabilities of oil painting medium and also better learn to create depth and complexity in a painting.
The techniques taught by the Old Masters Academy course will definitely enhance my paintings and help develop my style.
I would love to win the Old Masters Academy course because I will have access to the best teachers and be able to learn while I am at home with my kids. I also want them to develop a love for painting and art as I have!
Please vote for my painting as I believe humour and art can go hand in hand. A painting should invoke emotion. I hope this one makes you smile. Thank you!