Artwork by Samuel Kwok
I am a 75 years old retiree living on the Kapiti Coast in New Zealand.
My interests are sports, family, overseas travel, current affairs, politics and arts.
The playing and administrating lawn bowls takes up a large portion of my leisure time.
I was brought up in a rural town 100 kilometres north of Wellington. I was into everything from helping my parents in the market garden after school and playing sports in the weekend. I was athletic and was of above average ability in all sports I participated in. Academically I was also above average especially in sciences and mathematics. In my final year in primary school, my hand writing, painting and floral arrangement were entered by the school to the annual Regional Agricultural and Pastural Show Competition. I was awarded first in floral arrangement and third in the painting competition. My interest in other activities took over and my interest in doing art lapsed.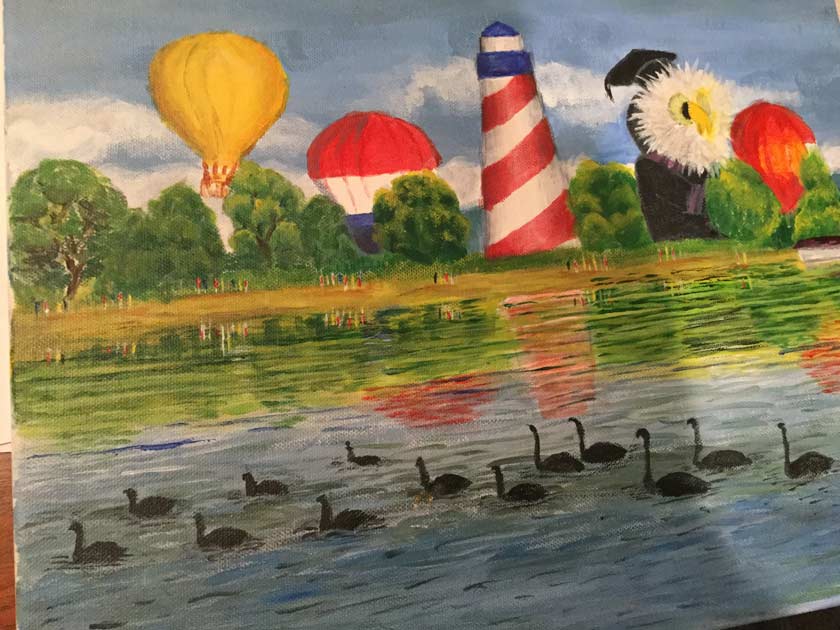 In the intervening years I continued to visit art exhibitions in the region and visiting museums and art galleries in my travels. During my travel to Amsterdam 2 years ago I visited the Van Gogh Museum where I spent several hours studying the works of Rodin, Monet and the collection of Van Gogh's art.
Being a community minded individual I have served as President, Chairman, Secretary and member of Boards in organisations I've been involved in.
I started my career as a communication technician and retired after 45 years as a software quality assurance engineer. I am married with 4 grown up daughters three of which lives in Melbourne and 4 grandchildren. My children have all completed their university education and have excel in music and sports.
My next challenge in life is to learn a hobby that I can enjoy in my twilight years. I started my journey last winter by attending introductory art classes where I completed 3 acrylic paintings. I realised that to become a competent painter I need to learn the skills to visualise, draw and sketch.
My motto in life is that whatever I chose to do I have to do it well. A perusal of stories penned by your students has assured me that the Old Academy Course is the course that will help me achieve my goal.
If you can see my potential, please vote for me to give me this opportunity.