Artwork by Dipali Deshpande
I am from Gurgaon, India. My formal education is Mechanical engineering. After working for few years in corporate sector I gave up due to some personal reasons. But apart from doing my responsibilities I wanted to do something for myself, something that I could enjoy.
While helping my son in his art projects I realised this is it. Art is the thing I enjoy most and gives me mental peace. So I started painting as an hobby. But I didn't realise when this hobby converted into my passion.
Being a self taught artist sometimes I took more long and wrong turns in my art journey. I was looking for a guide who could teach me in traditional way. But in India where focus is on Indian modern, getting proper traditional art education is quite difficult.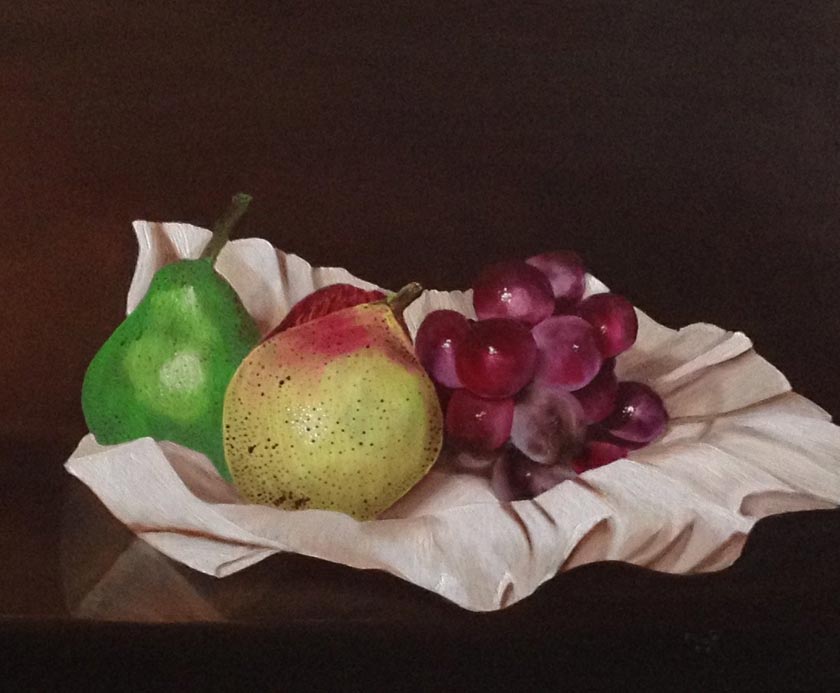 I joined two art classes but learned nothing than modern or guess work. To be frank, I was not satisfied with my progress. So while searching for traditional drawing techniques I came across drawing academy course. I thoroughly enjoyed Diploma in traditional drawing techniques under the guidance of of Vladimir and Natalie. Today I can draw with confidence and classical approach just because of that course.
I have started participating in group shows. I am very thankful to drawing academy for giving me new identity.
Art is a such thing that you never say ok, that's it I am satisfied whatever I have learned. This passion, thrust of learning keeps me alive as an artist. Whenever I see old masters work I feel like my art should be at least 0.1% of it. I know there is lot to learn. I face challenges in colour schemes, light and shadows. After completion of work I feel something is missing and I need to overcome this problem.
I want to learn how to paint like old masters. How to create more attractive colour schemes by using limited palette. How to play light and shadow game in artwork. How to improve composition. How to create different types of draperies… like this there are so many questions which begins with how to…
As being a drawing academy student I started watching old masters academy's videos also. I have full faith in this academy than any other so called art institute. Natalie and Vladimir are fantastic teachers. Old masters academy's videos are too good with proper step by step instructions and with lifetime access. Here I can learn how to paint like old masters by using modern materials which are available in the market.
I want to win this course because I want to paint like old masters and this I can achieve only after winning this course. I face some challenges in painting which I can overcome by joining this course.
If passion brought me to the first step 'Drawing art academy'. Now I feel like this is my second step towards my goal which I must achieve.
Thank you very much for giving me chance to tell my story. At the end only one thing I know that 'Never stop learning, never Stop Growing'
dipalideshpande.com