What we can learn from Raphael
This year, the World commemorates the 500th anniversary since the death of one of the great masters of the High Renaissance in Italy – Raffaello Sanzio da Urbino, whom we simply know as Raphael.
This March, I was very fortunate to visit one of the biggest and best of all the events in Italy – the Raphael Exhibition at Rome's Scuderie del Quirinale where there were displayed over 200 works of art.
In this short video, you can see how I make a quick sketch at this exhibition.
How to Draw like the Old Masters
All great Old Masters had one thing in common – they all had talented art teachers. At that time, there were simply no "self-taught" fine artists.
Things haven't changed since. If you are serious about learning good drawing and painting skills, you need a good tutor. If you've found one, we congratulate you!
But what to do if you don't have an art tutor? Instead, you have a job, family obligations and lack of time.
What to do if your local art class teachers don't have enough skills to show and explain how to draw and paint like the Old Masters?
Don't wait for an ideal teacher, learn directly from the Old Masters. Choose one you love the most.
I have few such "personal" teachers; I look at their works of art, I admire them, and, of course, I copy them.
Raphael is one of my favorites. Every time when I have an opportunity, like at the Raphael's Exhibition in Rome, I use it to make some sketches from original paintings and drawings.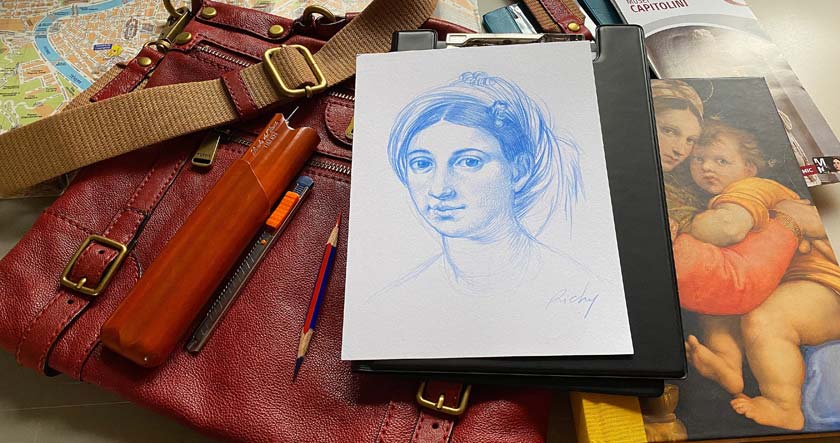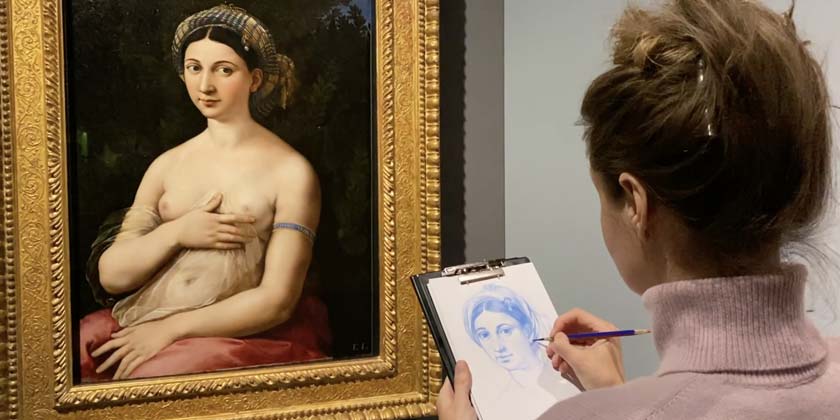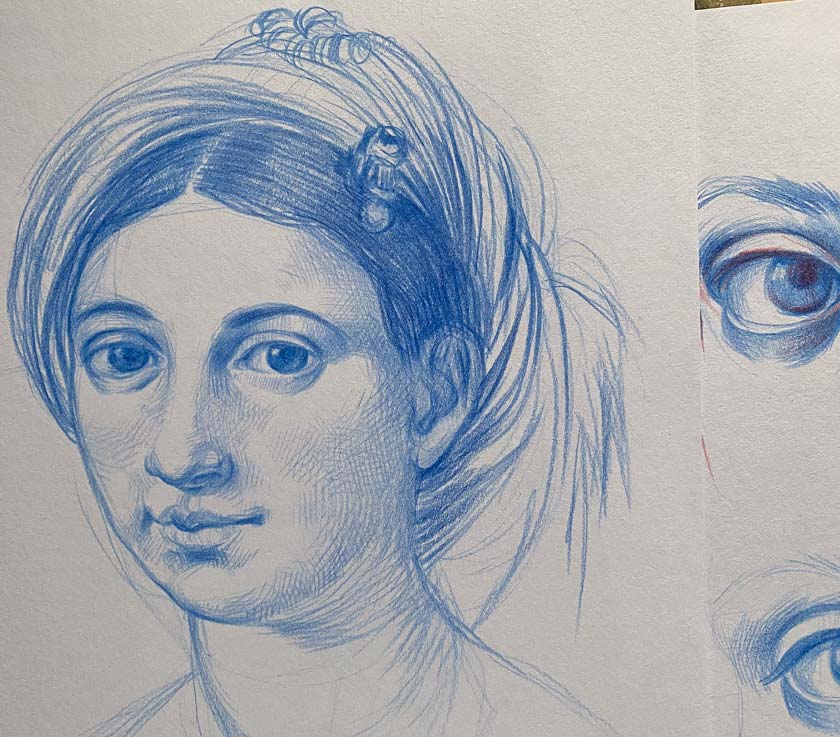 If you don't have an access to the old masters' original works of art, don't get upset, not many have. You can browse online galleries of the leading museums around the World and use the open source high resolution images to study and learn from.
With many international borders and museums closed, that is what I'm going to do. Join me! I wish you happy sketching!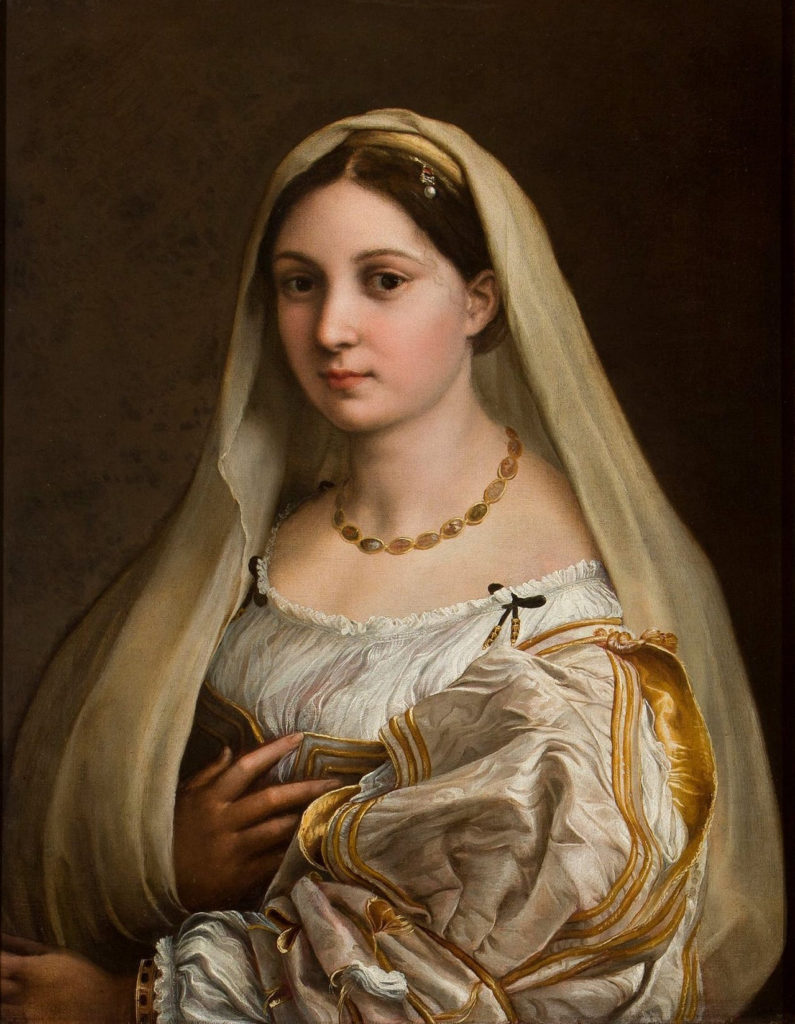 Raphael, La Velada, or the woman with the veil, 1515, Uffizi, on loan to Scudere del Quirnale, Rome, Italy.
If you want to learn traditional oil painting techniques as used by the Old Masters by watching me in action, enroll in the Old Masters Academy course now. I will be glad to be your "personal" art tutor.
To your creative success,
Natalie Richy
Old Masters Academy tutor
---
Learn time-honored oil painting techniques of the Old Masters!
What you will get: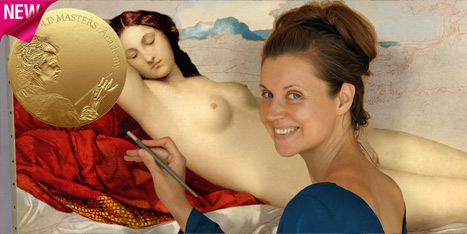 Instant access to all 60 multi-part video lessons
A lifetime membership
Personal coaching by the course tutor
Constructive critiques of your artworks
Full access to the Art Community
Exhibition space in the Students Gallery
Members-only newsletters and bonuses
Old Masters Academy™ Diploma of Excellence
How you will benefit: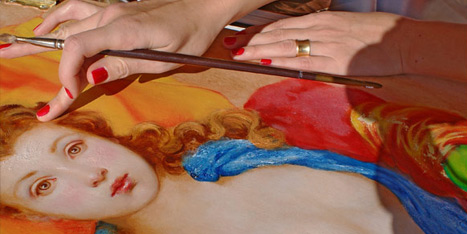 The Old Masters Academy™ course is very comprehensive, yet totally beginner friendly. All you need to do is watch video lessons one by one and use what you've learned in your creative projects. You will discover painting techniques of the Old Masters. This is the best art learning experience you can have without leaving your home. All information is delivered online, including personal support by the course tutor.
Learn how to paint like the Old Masters!
Old Masters Academy Online Course
Self-study, self-paced online video course Lifetime membership One-time payment:
$487
Enroll Now!
Personal Tutoring online + Online Course
Unlimited tutoring by the Academy teachers Lifetime membership One-time payment:
$997
Enroll Now!