Art Lesson 23, Part 1
Discover Color Triangle – Basic Color Theory for Artists
Learn how to paint like the Old Masters!
Get the complete Old Masters Academy™ course for only $487
ENROLL NOW!
« Back to the Art Lessons List
Color Triangle – Basic Color Theory for Artists
Now, it's time to come to the very core of the Color Theory. We are going to look at Colors in their genuine nature – distancing ourselves from Colors as an artist's material, distancing ourselves from the exotic names of paints, the origin of the pigments, the brand names and so on. We are interested in pure Color, pure Hue. What are the secrets behind Colors in terms of physical matter? No worries – we will cover only what is applicable to us, the Artists. We will leave formulas and complicated definitions aside. We need to learn those Color characteristics that help us to perform better in painting.
Let's start with a creation of Color Triangle. Worksheet #13 helps us to place all required guidelines on a piece of primed canvas, or whatever support you decided to use. As always, we draw outlines first, then we neatly isolate the outlined guidelines with masking tape.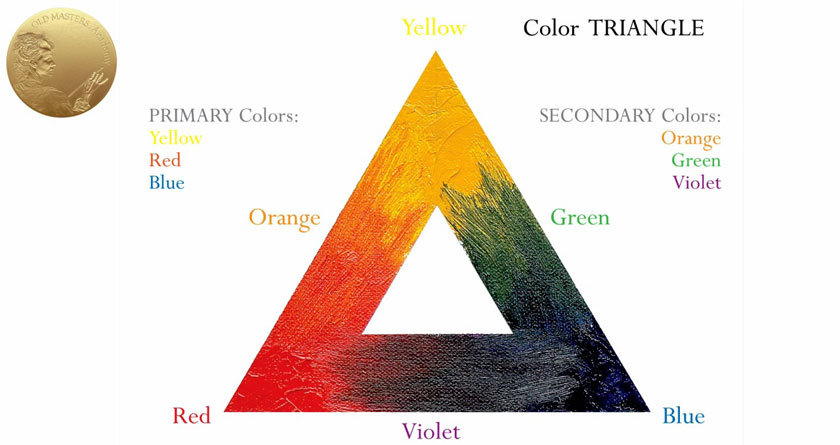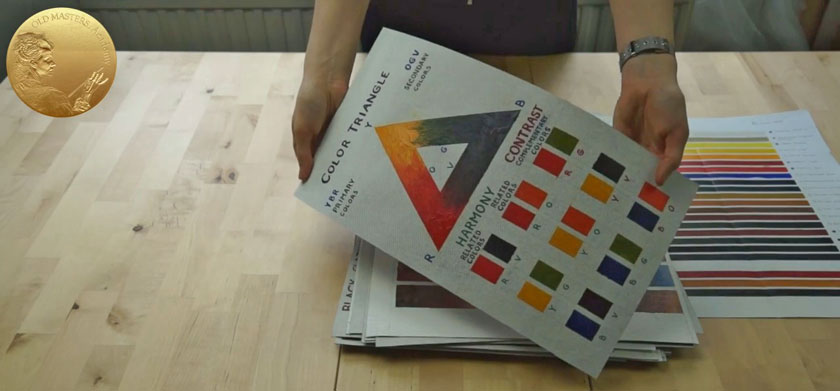 To understand how Colors are working in relationship with each other and in combination with each other, we need to understand the very basic of nature of Colors. We start with the so-called PRIMARY Colors, which are Yellow, Red and Blue. Use any kind of Yellow, Red and Blue Paints you like. The only request is they should be spectrum Colors and have obvious Hue. If Blue, use blue, not some questionable variation of a bluish Color.
By the way, if you hear the opinion that Primary Colors are Cyan, Magenta and Yellow – just ignore that. All of that is related to the printing industry.
We are placing the Primary Colors in the corners of a Triangle. You can locate colors in any combination; it doesn't matter. We have placed Yellow at the top of the triangle. You can use a Palette Knife or a Brush to do that. We placed the Red and Blue Colors in the bottom corners of the Triangle.
So, why are these three Colors called Primary Colors? Because they are very special Colors – it is not possible to mix any other Colors to get Yellow, Red and Blue. In theory, these three Primary Colors could create any imaginable Color by mixing them in according proportions. However, in practice, the Primary Colors do not behave as precisely, as our Oil Pains are not true spectrum colors.
Now, we are going to create SECONDARY Colors. For that, we have to mix two Primaries together.
Whatever kind of Yellow, Red and Blue you choose and the proportions in which you mix them, you will see different Color nuances as a result; but what will be always definite is that the result of mixing two Primaries with each other always gives that predictable result. Yellow mixed with Red always makes Orange; Red with Blue always makes Violet; and at last, Yellow with Blue always makes Green.
There, you see the resulting Secondaries – Orange, Green and Violet. We call them Secondary because they were derived from mixing two Primaries.
However, we have to note that even though we always reach Orange by mixing Yellow and Red, and we easily obtain green from Yellow and Blue, the case of mixing Red with Blue more often results in Black, although it has a Violet cast. So, sometimes theory and practice diverge.
I guess we can now get an impression of what Primary and Secondary Colors are and how they differ from each other. I find that the Color Triangle works best to illustrate which Colors are which. If we compare our Color Triangle with the more often used Color Wheel, like this for example, you will feel that when referring to the Triangle, it's easier to distinguish which Colors are Primary – in the corners; and which are Secondary – those that are between them. A Wheel looks more confusing.
Now, let's recap what we have been learned through this point:
Primary Colors – these are three Colors that cannot be made by mixing other Colors.
Secondaries – Colors that are derived from mixing two Primaries together.
What you need for the task:
Worksheet #13
Prepared Support – Canvas, Canvas Board or Oil Painting Paper A3
Masking tape
Any Yellow, Red and Blue Colors
Hog or/and Synthetic Brush
Palette Knife
Liquin Original
Learn how to paint like the Old Masters!
Get the complete Old Masters Academy™ course for only $487
ENROLL NOW!