Art Lesson 21, Part 1
Discover How to Mix Oil Colors – Mechanical Mixing in Direct Painting Method
Learn how to paint like the Old Masters!
Get the complete Old Masters Academy™ course for only $487
ENROLL NOW!
« Back to the Art Lessons List
How to Mix Oil Colors – Mechanical Mixing in Direct Painting Method
In this Video Lesson we will explore How to mix Oil Colors for Painting in Mechanical and Optical mixing. Or, more precisely speaking, we will discuss how to mix Paints as materials. How to mix Colors – (Colors as Hues, not paint), and which Color to mix with which to predict the result of mixing. All that we will study can be found in one of the next Video Lessons called "Color Triangle – basic Color Theory".
How to mix Paints is one of the most popular questions, and it isn't an idle question – there are quite a number of options regarding how to mix Paints, and each one has its perfect application situation as well as different kinds of visual effects that can be achieved by different mixing methods. This plays an important role in the perception of the painted surface and highly affects our impression of the particular work of art.
Let's start with a basic review of the Mixing options we have.
We can divide the Mixing process into two major categories. As you can see in this Chart, one is a Mechanical or Physical mixing method and the other is an Optical mixing method. They are opposed to each other.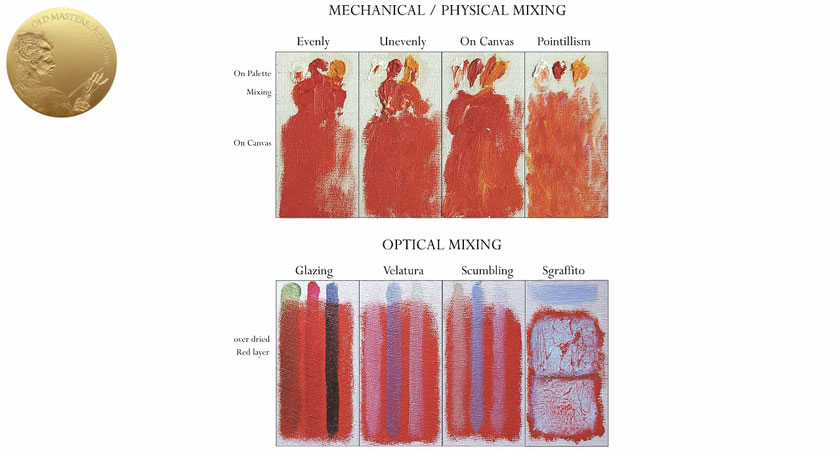 Part 1
Let's start with the most obvious and widely used mixing techniques. That is, Mechanical Mixing. For this exercise, we need Worksheet #11. Squeeze the paint on the Palette. Here, we have already arranged White, Red and Yellow Colors. Let's imagine that this is our Palette.
Our first Physical Mixing method will be Evenly Mixed Paints. This is the simplest way of mixing Paints. We usually take two or three Colors and intermix them carefully on a Palette before applying them to the Canvas. Use a Palette Knife for that. If you need to mix just a small amount of paint, you can do it with a Brush.
In the next example, we do the same, only we mix the Paint sporadically. Let's name it Unevenly Mixed Paints. We slightly mix the Paints with a Palette Knife, allowing Colors to show up separately and to not be evenly mixed into a uniform Color. Because I used related colors, it's not so clearly visible, but on another example with Red and Blue, it's more visible.
We can also mix the Paints directly on the Canvas. Imagine, you do some passage in Red and decide it should be more Yellowish. Just dip a Brush into the Yellow Color and admix it right on the Canvas. This is the so-called Alla Prima technique, or "Wet on Wet" method. When you apply a new "wet" layer of Paint over a not dried, but "wet" lower layer, you can intermix the Paints evenly or leave picturesque traces of both Colors.
The next method creates an optical effect; we named it, conditionally, "Pointillism" – we borrowed the term from the 19th century. This method illustrates the way of creating a Color effect by placing different Colors separately, in the form of strokes, dabs or dots, and allowing our brain to optically merge together into one vibrant Color. Obviously, Old Masters did not work out this method into a separate, independent painting method, as it occurred in 19th century, but they occasionally used the effect of this method to underline the effect of vibrancy or nervousness. We see it in the depiction of foliage, for example. You see? When we look from the distance – it's vibrant foliage, but in a close up, we see the individual touches of Color. Despite the fact that the effect produced by such mixing has Optical nature, we placed it in the Physical Mixing category, setting it apart from this section of pure Optical methods. And later, we'll explain you why we did so.
When you do Mechanical Mixing, you can add a bit of a Medium or Diluent into the Paint. It's up to you; completely optional. But I find it perfectly fine to do Mechanical Mixing with pure Paint straight from the tube.
What you need for the task:
Worksheet #11
Prepared Support – Canvas, Canvas Board or Oil Painting Paper A3
Masking Tape
Some Colors, for example any Red and any Yellow
Hog or/and Synthetic Brushes
Palette Knife
Liquin Original
Learn how to paint like the Old Masters!
Get the complete Old Masters Academy™ course for only $487
ENROLL NOW!