Art Lesson 6, Part 2
Find out all you need to know about Oil Painting Brushes
Learn how to paint like the Old Masters!
Get the complete Old Masters Academy™ course for only $487
ENROLL NOW!
« Back to the Art Lessons List
Oil Painting Brushes for Beginners
Well, let's recap. Which brushes are better and should be chosen?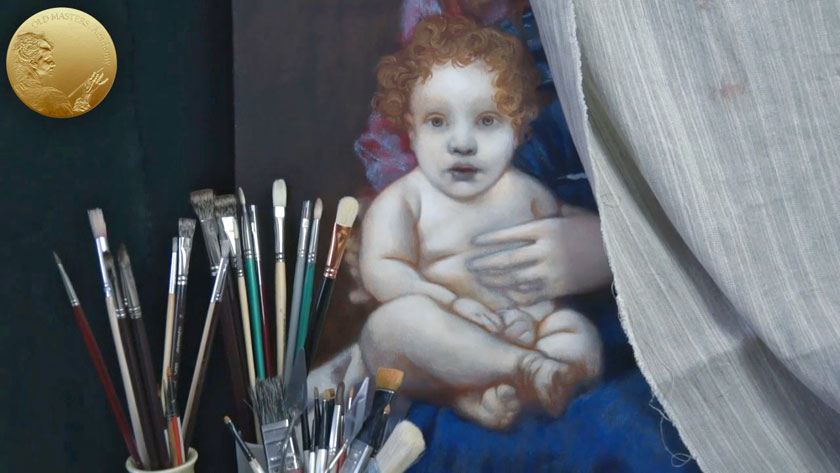 For some artists, Sable brushes might feel too soft, so they stick to rigid Hog Bristles. Others, on contrary, like to paint with soft accurate movements, smoothing the paint on the surface – for them Sable brushes are the best choice. With time, you will feel the difference between different kinds of brushes and form your own personal preferences.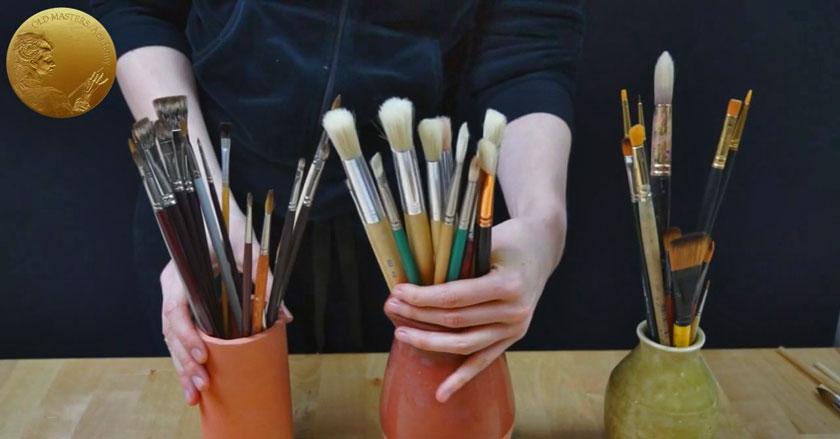 But for now I advise you to acquire the following starter set of brushes:
Sable: for glazing
Shapes: Round and/or Flat and/or Filbert
Size: 00, 4, 8, 12
Bear in mind that sizes could vary from brand to brand; number 8 of one brand could be a completely different size in another brand.
Mongoose: can duplicate the Sable brush set. They are more or less interchangeable.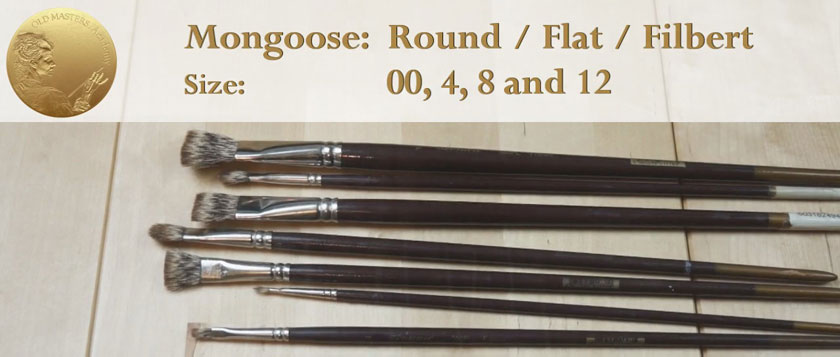 Hog: rigid irreplaceable brushes for all kinds of works.
Size: 00, 4, 8, 12
And also these are priming brushes – which should be used exclusively for priming. Label them and keep them apart from painting brushes.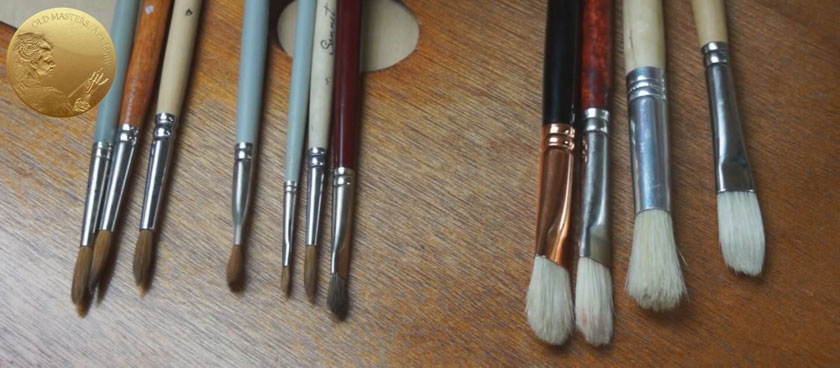 Synthetic: are soft brushes, they work as a cheaper alternative to Sable and Mongoose.
Size: 00, 4, 8, 12
Buy and keep your Varnishing brushes separate from the ones that you use to paint. For Varnishing, you need a Flat or Long Flat wide synthetic brush like these ones. You can even go for a wider brush like this one.
The logic behind choosing sizes is simple – you need the smallest possible brush for details; the biggest brush to work freely, blocking in large spaces on medium size canvas; and one or two sizes between the smallest and biggest brush.
Do not buy too many brushes under emotion; wait till you decide what brushes are better for you. You will naturally start collecting one brush after another, according to your preferences.
I have, at my disposal, a bunch of outstanding quality brushes I usually use for glazing, for finishing layers of painting; for flash and portraits.
I mostly use Mongoose brushes; Sables are too soft for my touch. These are my Bristle Brushes which I generally use for Underpainting and in methods that require the intensive work of a rigid brush – for Scumbling and Dry-Brush methods. Soft hair brushes cannot handle these methods. And finally, Synthetic brushes. I like to keep my best and favourite brushes for important work and I choose Synthetic for all unimportant odd jobs and exercises. They are disposable and, as you see, I have quite a lot of them. But honestly, no one needs so many brushes, they just sit in boxes for years.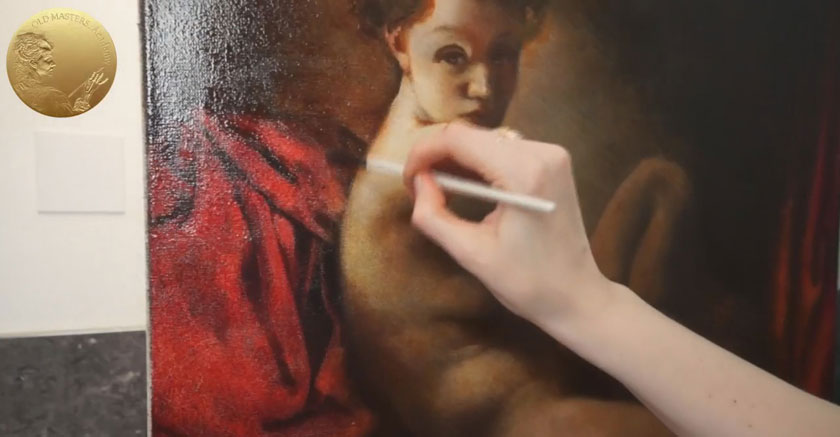 How to clean your Brushes
If you paint on an everyday basis, there is no need to clean the brushes after each painting session. It's enough to gently wipe off any excess paint from the brush with a piece of cloth; clean it in Linseed Oil until there's no trace of any paint coming out; and immerse it into Linseed or Sunflower Oil till the next session. Brushes should lay in Oil, flat in a horizontal position, to avoid damaging brush bristles. Never store your brushes vertically in Oil or in any solvent. Before your next painting session, just wipe off the oil from the brush and it's ready to be used.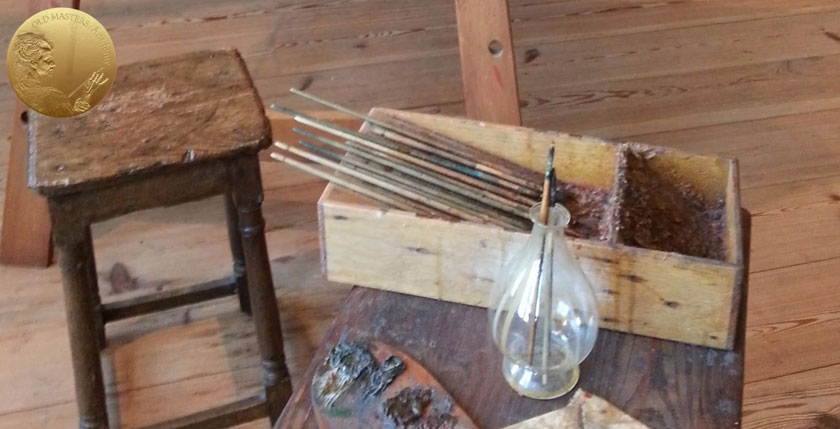 When your brushes have been set aside for a long time, you should clean them properly. To do so, you can use Solvents or hand soap, but there are downsides to using them – solvents make Brush hair brittle, but soap can't wash out the paint from the brush hair, and paint can gradually build-up in the ferrule, which can misshapen the Brush quite soon.
However, there is a special cleaner that can cope with such problems. I've been using it for the last two years and must admit it has a big advantage over solvents and soap. It is "The Masters Brush Cleaner and Preserver". It completely removes not only fresh, but also hardened oil paint from the brush. From any brush – whether it is the finest Sable brush or Hog bristle brush, or synthetic brush. This cleaner helps prevent paint build-up in the ferrule and substantially extends the life of your brushes. It's very simple to use: after you remove excess paint from the brush, wet it with water; swirl it in the cleaner and work it into a lather, then rinse the brush with clean water and repeat the process until the lather becomes white. Gently shape the brush head with your fingers and leave them to dry horizontally. When your brushes are dry, you can store them vertically, head-side-up.
Learn how to paint like the Old Masters!
Get the complete Old Masters Academy™ course for only $487
ENROLL NOW!