Art Lesson 19, Part 2
In this lesson, you will discover Oil Painting Mediums and their Uses
Learn how to paint like the Old Masters!
Old Masters Academy Online Course
Self-study, self-paced online video course Lifetime membership One-time payment:
$487
Enroll Now!
Personal Tutoring online + Online Course
Unlimited tutoring by the Academy teachers Lifetime membership One-time payment:
$997
Enroll Now!
« Back to the Art Lessons List
Oil Painting Mediums and their Uses
Well, 10 months have passed since the Chart was completed. All Mediums have dried enough to see if they have changed since completion. Let's see what we have here.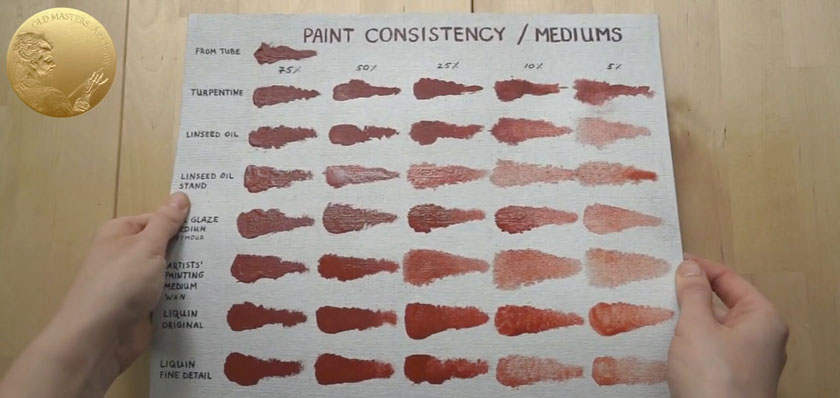 We can see that the Paint diluted with Turpentine looks very mate. The Oil Paint became lean; it has the lowest proportion of Oil in the Paint. When Turpentine evaporates, the surface remains porous. This provides a good adhesion for successive paint layers, which will over-paint that lean preliminary stage. Have a look at the Paint we applied straight from the tube – it has a bit of gloss because of the Oil it contains. We already know that Turpentine suits ideally for the first layers of a painting, which should be lean ("Fat over Lean" rule, you remember?). Use Turpentine for Imprimatura, Painted Sketch or the Blocking-in of the Colors. It quickly evaporates, allowing the Paint to dry quickly; White Spirit dries even faster and works similarly to Turpentine, so you don't need to have both Volatile Mediums. Choose any of the two. In the first layers, you can thin the Paint to a wash, to a watercolor look.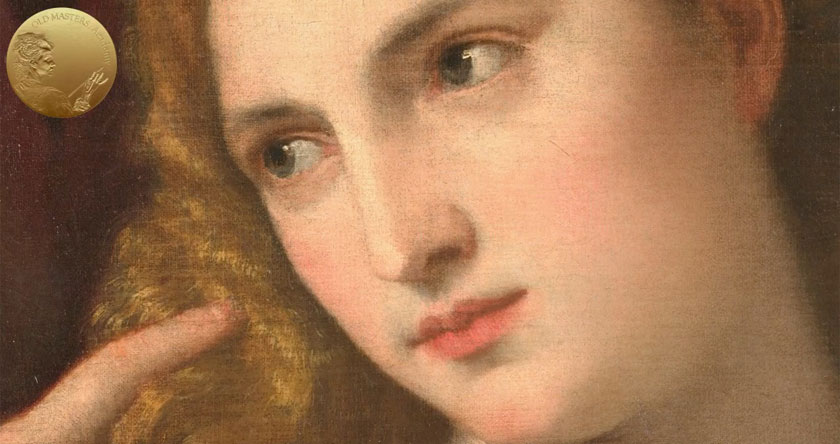 You might be surprised, but Refined Linseed Oil also produces a matte surface when dried. Compared to fast-drying Turpentine, Linseed Oil is a fatty Medium, and it takes days to dry. The bigger quantity of Oil in the mix, the longer it dries. But we have to remember that it is dangerous to overdose a paint layer with Oil. If you decide to thin the Paint with Oil, to make it more fluid, add it in small quantities, and apply it in thin coats of paint and never in first layers (Yes, it's the "Fat over Lean" rule again). Adding excess Oil to the paint leads to browning and creasing and dramatically reduces the durability of the painting in the long-term perspective. The Paint with added excess Oil also leads to sinking in, which is exactly what we see here. That's why all these samples have become dull. Linseed Oil, in its plain condition, doesn't suit for Glazing. There is no reason to add Oil into Paint in such quantities as we did here. So, what we see here is just for academic research; we do it for the sake of science. This is the so-called "not to do recipe."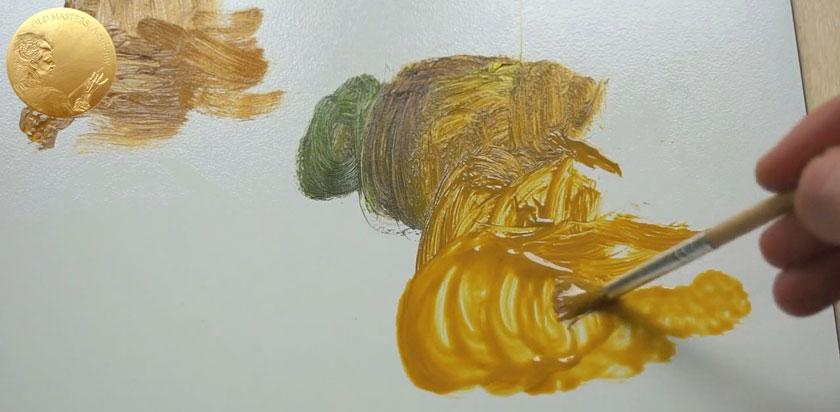 The next one is my favorite Medium, the best of the best Mediums for Glazing, and the safest: Processed and Condensed Oil. Here, you can see the result produced by Linseed Stand Oil, but Sun-Thickened Oil is doing the same work as Stand Oil. You can, for example, buy Stand Oil from art materials suppliers. As it could be manufactured by specialists only; but Sun-Thickened Oil could be prepared on our own. Please, refer to the Video Lesson on "Mediums – Best Mediums for Oil Painting" with the instructions on how to do your own Sun-Thickened Oil. Well, what do we see here after 10 months? The surface is glossy and flexible. Unlike conventional Oil, this Condensed Oil has less capacity to sink-in. You see, it remains vivid, not dull like we see with the example of Refined Oil. We have to apply it thinly when using it in glazes; otherwise, the surface can become wrinkled and receive a wavy surface. This is exactly what we witness in this sample. Here, we added too much Condensed Oil. Just 10 months have passed, but the skin of the Paint has already become wavy, and that process will continue to become worse. Condensed Oil is less prone to yellowing and more moisture resistant than plain Linseed Oil. This is its big advantage. Let's re-cap: Stand or Sun-Thinned Oil works perfectly in thin glazes. We have to dry them up thoroughly before applying the next glaze. To accelerate drying time, expose the painting under the sun for a short time.
The next one is the Oil Glaze Medium (by "Seymour" brand) – a Dammar Resin based product. If you decide to use some of the manufacturers' ready-to-use Resign Medium, for thinning your Paints, use those that contain Dammar. Dammar is the safest and most widely available Resin. However, there is a very significant "but" – Resin becomes too brittle with time; it cracks and has a strong tendency to yellow. However, Dammar Resin products yellow and crack less than other Resins. A very interesting fact is that Rubens reportedly (referring to his contemporaries) used Resins in his paintings to make his Paints dry faster. And also, he didn't need to varnish his finished paintings, as the surface of his paint layers was composed of a strong, protective surface thanks to the use of Resins. Despite those statements, the leading museums, including The National Gallery in London, haven't find traces of Resins in Rubens' paintings. But what they discovered is that his paintings contained polymerised fatty drying Linseed and Walnut Oils. In other words, he used Stand or Sun-Thinned Linseed and Walnut Oils. When they polymerize, they give very similar properties to Resins.
So, draw a conclusion for yourself. It's entirely up to you to use Resins or not. Would you be patient with slower-drying Processed Condensed Oil, or will you choose more convenient, rapidly drying mediums based on Resins?
When we look at our test, we see that Dammar Resign Medium, called "Oil Glaze Medium," gives a very similar surface to Condensed Oil, but in my opinion, the surface is too glossy.
How can we evaluate this Medium – Artists' Painting Medium – which has Linseed Stand Oil diluted in Petroleum as ingredients? The glossiness of the dried film is similar to undiluted Linseed Stand Oil, but we have a visible difference in the character of the Paint itself. You see how particles of a Pigment separated under the influence of Diluent and settled in the irregularities of the canvas texture. Particles of Pigments precipitate unevenly, like sand precipitates in water. It creates a particular effect, but this effect is not always desired, for example in the depiction of flesh.
While in undiluted Stand Oil, the Paint particles are unified in one smooth consistency. What conclusion can we make here? I feel that in this ready-to-use Medium there is more Dilution than I would like to have. So, it would be better to dilute the Condensed Oil yourself and control the proportion of Oil to Diluent.
Here, we come to synthetic Alkyd Resin products – Liquin Original and Fine Detail. We discussed it as an optional Medium – it is a relatively new product. It is suitable for exercises and sketches and works as a Paint thinner and Glazing Medium. As you can see, it is so fast drying that the applied Paint thinned with the Liquin and didn't have time to evenly spread in all directions.
The feelings and effects these Mediums provide are to some extent different. When you do such a test yourself, you will feel all ranges of feeling that the Mediums provide – from a watery feeling to a dense and viscose feeling, as well as a feeling of fatty substance to a completely synthetic sense while you manipulate with these Mediums. So far, all the tests have behaved quite well, except in this extreme case – too huge of an amount of Stand Oil applied thickly has already formed a wavy top film, which will intensify with each year. We do not see any other misbehavior here. First of all, 10 months is too short of a time to reveal all positive sides or downsides of all Mediums and the behavior of one Medium in different proportions to Paint. Another point is – these are just single layers applied, a kind of Alla Prima approach, the safest method – as a single paint layer behaves quite well, no matter what you use as a Medium. But when we create multi-layered painting, the process of interaction between all layers can easily reveal all mistakes in the misuse of Mediums. For example – here we applied paint thinned with Turpentine in a single layer. It partially penetrated into a porous primed ground. Adhesiveness between that layer and a ground is great. Everything is great. Imagine this layer applied over a layer done with Stand Oil – this is a completely different situation. The layer diluted with Turpentine will dry (or rather evaporate) much faster than the lower layer of Stand Oil, which will dry even slower. Here, we see the ignoring of "Fat over Lean" rule. As a result of that, the dried solid upper layer could form cracks – because Oil that is underneath is still drying and shrinks, provoking the upper dried layer to crack. Now imagine you have not just two layers but many, applied sporadically without any system. What happens in few years' time? I'm not even talking about centuries. So, let's educate ourselves and follow the technical rules. For a professional rebel who does not respect the rules, my advice would be – break the rules wisely, without harming your works. If you believe your works are really worth surviving longer than one decade, you should follow the adequate technical rules. Do not contribute to the deterioration of your works.
What you need for the task:
Worksheet #9
Prepared Support – Canvas, Canvas Board or Oil Painting Paper A3
Masking tape
Any Oil Paint, for example Venetian Red
All Paintings Mediums you want to test
Hog or/and Synthetic Brush
Learn how to paint like the Old Masters!
Old Masters Academy Online Course
Self-study, self-paced online video course Lifetime membership One-time payment:
$487
Enroll Now!
Personal Tutoring online + Online Course
Unlimited tutoring by the Academy teachers Lifetime membership One-time payment:
$997
Enroll Now!