Art Lesson 46, Part 8
Discover how to make a Portrait Drawing in Flemish Style
Learn how to paint like the Old Masters!
Get the complete Old Masters Academy™ course for only $487
ENROLL NOW!
« Back to the Art Lessons List
Hatching and Cross Hatching Drawing Techniques
When drawing the outfit we can improvise with strokes freely. The dress is made from light rough fabric, which you could illustrate in a few ways, with both hard and soft pencils. This is one of the methods – hatching with hard type of pencil; let's try B2 for this occasion. The methods of hatching don't differ from previously studied crosshatching; you do almost the same only without overlaying. Spread over the surface of form shadow series of short, thick strokes. Lightly with no pressure apply the strokes; the concentration of strokes should not be too dense. Leave spaces between lines, it would make better feeling of the fabric.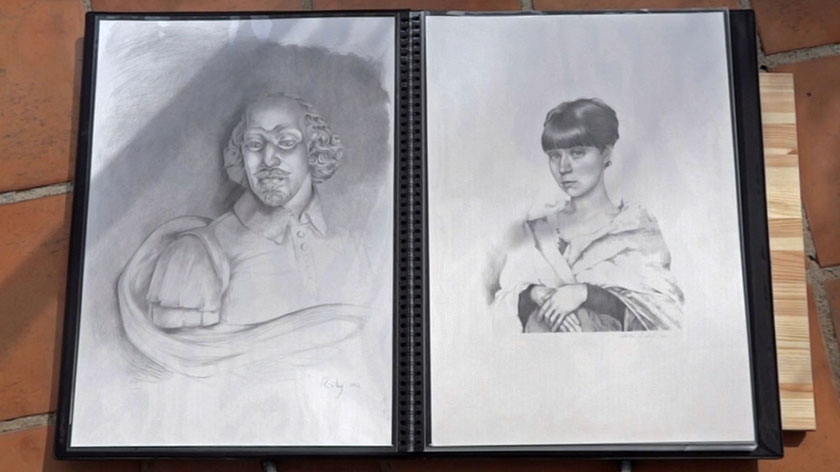 Draw lines and shading with light touches. Express yourself in a simple manner as possible. There is no reason to over-complicate. Let every touch mean something, and if you don't see what to do next, don't fill in the time by meaningless shading and scribbling until you do. It is important to minimize mistakes in drawing as every time when you erase you're damaging the smoothness of paper surface. When you redraw on erased area you might experience some difficulties controlling the clarity of strokes. So, if you're not sure what to do next – wait awhile, rest your eye by looking away, and then see if you cannot find something right that needs doing.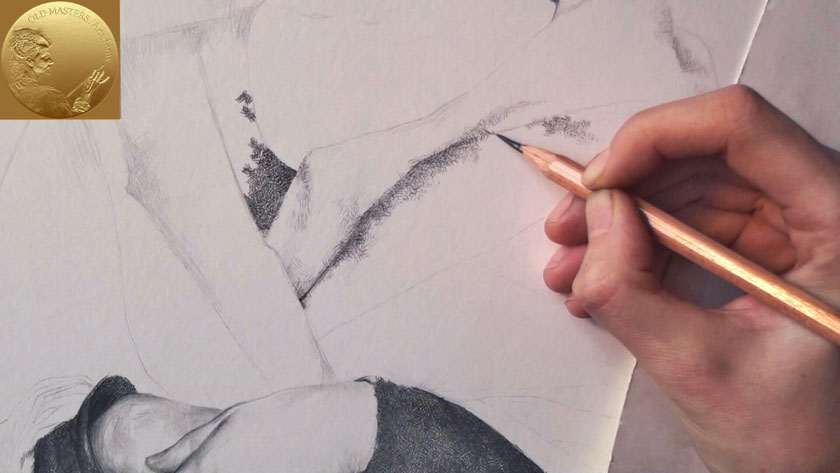 To liven up the monotony of light dress you can make a few dark spots in cast shadow places. Crosshatching is very appropriate for it. You can do the same technique as in drawing sleeves only with reduced frequency of strokes, leave spaces for transparency.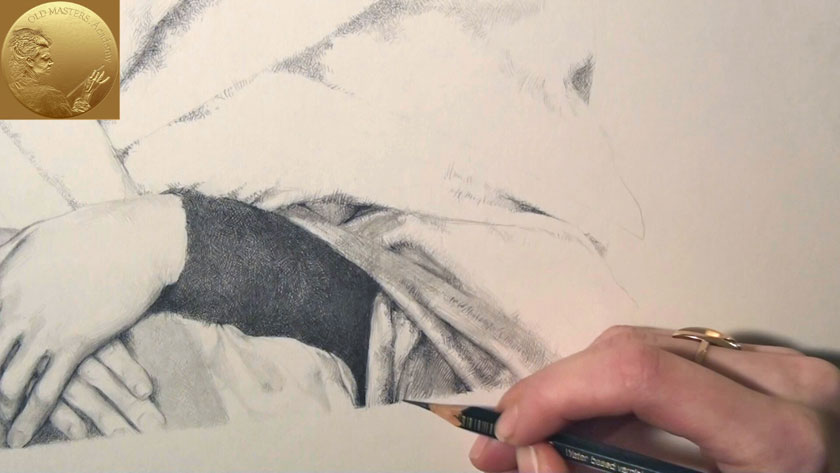 The right shoulder of the model is closer to us then the left one. You can use this fact to create a slight atmospheric perspective. If you are drawing the left shoulder of the model with hard pencil, which makes thinner, less visible marks; right shoulder should be drawn with soft one, which in tern makes lines thicker and more visible. This trick optically makes her right shoulder closer to us.
An example of shading the dress showing how different directions of lines can help express character of drawing. Take a look on stroke variations.
This method of hatching gives vivid, vibrant spirit to your drawing. It made with pretended carelessness and it shows extremely temperamental look. This effect you may achieve by hatching with very short, thick strokes. Treated in such way surface may remind a lithography print texture or imitate rough, uneven paper. These small folds of clothes replicate the rhythm of crossed fingers – the folds and fingers have the same diagonals. It remains only apply already known stroke technique to illustrate this spot expressiveness. Use soft and hard graphite and in case of need different kind of erasers.
Learn how to paint like the Old Masters!
Get the complete Old Masters Academy™ course for only $487
ENROLL NOW!