Art Lesson 12
Information on Safety – Find out if Oil Painting is Dangerous
Learn how to paint like the Old Masters!
Get the complete Old Masters Academy™ course for only $487
ENROLL NOW!
« Back to the Art Lessons List
Safety – Is Oil Painting Dangerous?
There are no major hazards in modern painting materials, especially when you use them as intended. However, such materials are chemical products and reasonable safety precautions should be followed. Oil Painting materials are chemical products, manufactured for adult use, and therefore should be kept out of reach from small children in order to prevent any accidents. In the Old Masters .Academy ™ we chose the least toxic pigments possible. We also do not use pigments containing lead. It is necessary to familiarize yourself with the product's health labels before you start using it. If there are health concerns associated with ingredients, a health warning will be clearly printed on the label, so you can easily know which products are hazardous in case of misuse. If a product is not labelled with a hazard warning, then it is considered to be non-dangerous.
Dangerous substances may be classified as the following: Toxic, Harmful, Corrosive, Irritant, Oxidising, Explosive, Flammable or Dangerous for the Environment. However, take precautions and practice with care and common sense, your art materials will be safe, whether or not they are potentially hazardous.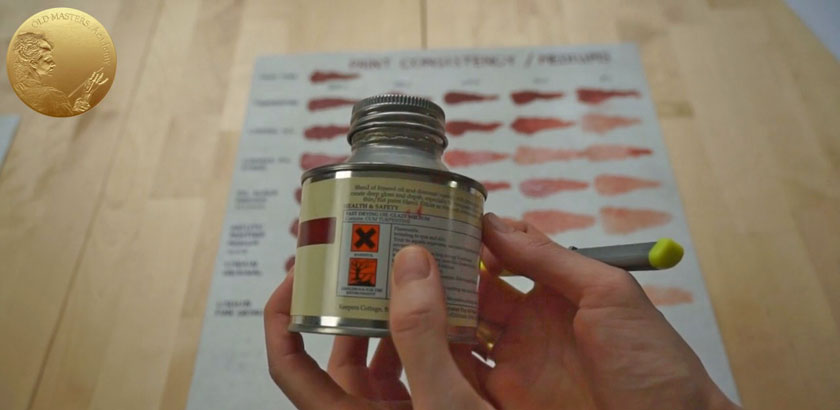 Please use our recommendations to make your painting process as safe as possible:
Keep painting materials out of reach from children and animals.
A studio should be well ventilated. Placing a fan in front of an opened window can increase air circulation and help blow air in and out of the room.
Wear protective gloves to avoid excessive skin contact with painting materials, especially if you have sensitive skin.
Use a barrier cream or surgical gloves when painting with your hands.
Avoid sleeping in your studio or at least place your freshly painted artworks and paintings materials in a different place.
Keep all painting materials, particularly solvents, tightly closed with a cover.
Keep all artists' materials far from open flames or excessive heat sources. Because volatile solvents can ignite, never smoke while working.
Do not pour more solvent than needed for current use, it will only evaporate into the room.
Avoid prolonged inhalation of solvent vapours.
Clean up all solvent and medium spills.
If you accidentally splash paint or solvent into your eyes, flush your eyes thoroughly with water.
Never use dishes, containers or utensils from the kitchen to mix and store paints, mediums and solvents.
Use containers that you will never confuse with containers you use for storing food. Keep artists' materials away from the foodstuffs.
Do not eat, drink or smoke when working due to the risk of ingestion (swallowing).
Do not put your brushes in your mouth; paints are not made for human consumption.
In case of accidental swallowing, do not induce vomiting: seek medical advice immediately and show medical personnel the product's container or label.
Wear a mask when using powdered pigments to avoid inhalation of airborne particles.
Avoid releasing products into the environment. Refer to safety data sheets.
Learn how to paint like the Old Masters!
Get the complete Old Masters Academy™ course for only $487
ENROLL NOW!