Art Lesson 37, Part 1
Discover the art of Titian and Venetian School of Painting
Learn how to paint like the Old Masters!
Get the complete Old Masters Academy™ course for only $487
ENROLL NOW!
« Back to the Art Lessons List
Titian and Venetian School of Painting
Titian was the first artist to achieve international fame. His influence on the development of Western art has lasted until the present day.
There is no certainty in the exact date of Titian's birth. In his late years, he, himself, claimed in a letter to the king of Spain to have been born in 1474, which is considered highly unlikely. Today's institutions support dates from c.1488 to 1490, and view them as more accurate.
By the standards of today, Titian enjoyed a long, artistic life; he lived to be about 86-88 years old. This was an especially long life, considering that the average life expectancy from his time was just under thirty. He had become a genius, a live "classic" during his own lifetime.

Interestingly to note, apart of being great in art, he also had a business grip. During his life, he possessed numerous agricultural and commercial holdings, giving him a substantial additional income, aside from the main profit he earned as an artist. His elevated and financially independent status was reflected in his large Venice house with a private garden, which he used as his residence for about forty-five years and onward, until his death. This house survives; however, it has been extensively remodeled over the centuries and recently has been put up for sale.
The respect Titian earned was so high that, as legend goes, Charles V, the Holy Roman Emperor, to the dismay of his courtiers, picked up Titian's brush from the floor when Titian occasionally dropped it.
Later, Philip II – the son of Charles V, had made an agreement with Titian to produce and supply him with paintings on a regular basis. Factually, Titian served as the court painter while residing in Venice. Within seven years, Titian and his workshop produced 70 paintings for his royal patrons and their entourage.
Apart from the Spanish royal court, his clients were Venetian patricians and Roman papacy.
Titian, and his studio, was overwhelmed with different types of commissions, from portraits to mythological and religious subjects. Possession of a painting made by his hand was a symbol of status for those who wanted to show off and highlight their importance with luxurious items; however, apart from that human weakness, there was also appreciation for the supreme skillfulness that Titian's works possessed.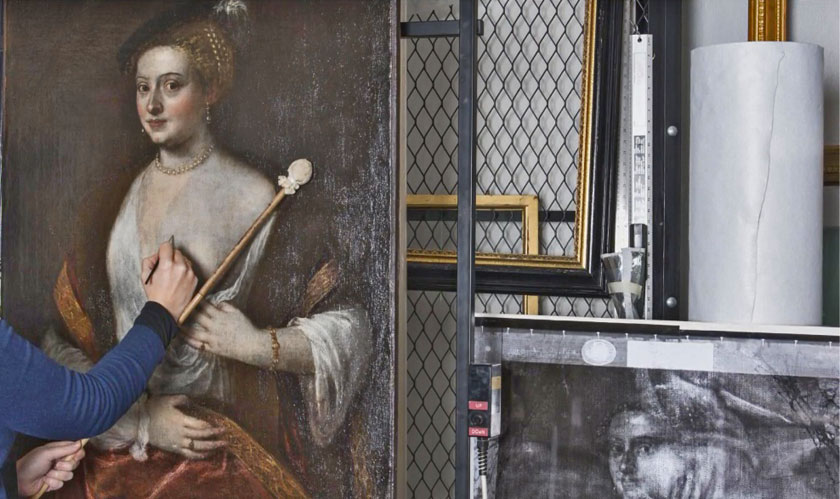 Many of his masterpieces have a lineage of the greatest collections in Europe. They have been passed from one royal to another. For example, Entombment of Christ had passed through the collections of famous kings – it was in the collection of Charles I of England and Louis XIV of France, the Sun King.
During his lifetime, two biographies about Titian were published. Both writers, Ludovico Dolce and Giorgio Vasari, had personally met Titian when he was middle-aged.
Titian's creative life began about 1508 and continued right until his death in 1576. He had a 68-year-long, mind-blowing artistic career.
It has been estimated that the number of paintings created by Titian varies between 400 and 600, whereas just about 300 of those are estimated to have survived.
We can do the calculation. Let's take the average number: 500 paintings. We divide 500 by 68 (which represents the productive years of his life). This makes over 7 artworks per year, which sounds pretty much believable. Of course, this is just speculation, as there is no precise information on the number of paintings Titian painted himself and production probably wasn't consistent year to year.
We know from surviving prints made after his paintings that some of his major masterpieces were destroyed under various circumstances; like Martyrdom, which was named by Vasari as Titian's greatest work. Only hints from engravings and a painted copy can tell us what this work may have looked like. We can only guess how many of his works totally disappeared without a trace.
It is a real challenge trying to calculate the precise number of Titian's surviving artwork, as a large number of works was executed in his style by his workshop assistants. Naturally, collectors and institutions that have in their possession such questionable paintings are interested in attributing them to Titian himself; that's why they use any fragile hint to prove they possess a true Titian.
Learn how to paint like the Old Masters!
Get the complete Old Masters Academy™ course for only $487
ENROLL NOW!