Art Lesson 10
Find out what Tools and Accessories for Oil Painting you will need
Learn how to paint like the Old Masters!
Old Masters Academy Online Course
Self-study, self-paced online video course Lifetime membership One-time payment:
$487
Enroll Now!
Personal Tutoring online + Online Course
Unlimited tutoring by the Academy teachers Lifetime membership One-time payment:
$997
Enroll Now!
« Back to the Art Lessons List
Tools and Accessories for Oil Painting
Besides Brushes, canvases, Oil Paints and Mediums, we need some more handy accessories. Let's look at the necessities.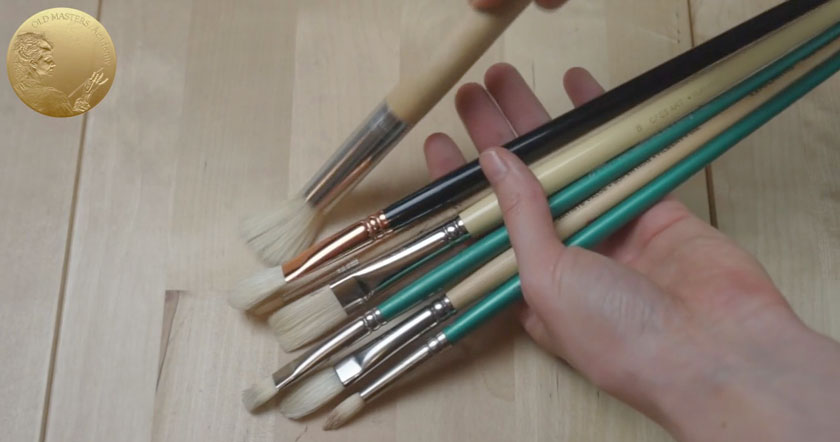 Palettes
For a palette, you can use any non absorbent piece of board or glass. It doesn't have to be a hand-held palette. I personally prefer to keep my palette stationary and place it on the table so that I have both of my hands free. I do not insist on using one particular shape or a certain type of material for your palette – it's entirely up to your taste. But let's review just two options that I find extremely convenient and complies with the requirements of the painting techniques we are going to practice.
There are two kinds of Palettes each artist should have: The first one is a simple traditional dark wood Palette, which you can find in any art supply shop.
And the other one is white. This is my primary Palette (Melamine palette) that is made from artificial materials and is easy to maintain in a clean state.
The Flemish Technique of the Old Masters is based on painting over a white or slightly off-white background. This is why we need to use a white Palette when we start painting. By laying colors on a white palette, you can judge the colors in relationship to the white background. When the same colors are applied on a dark Palette – they will look different and this can mislead you to mix the colors in wrong tonality. Also when you use transparent glazes, the white surface of a Palette helps you understand the real color of the glazings you are going to apply. However when you're working on a darker ground, use a dark palette – your colors will look similar on your palette to what they'll appear as on your canvas.
So, let's summarize – Use a white Palette when you start painting over a white or off-white background and also for glazings. Use a darker Palette for other cases.
My Wood Palette is kidney shaped and my White Palette has a rectangular shape – it's just a personal choice. Choose the shape and size you find most suitable for you.
A few words must be mentioned on how to prepare brand new Palettes for their first use: White melamine Palette – before each use just slightly wipe it with linseed oil; this makes it easier to clean it after use.
When you buy a new wooden Palette you need to condition it. You must seal it to make it less absorbent to oil paint. Rub linseed oil into the wooden surface with a soft cloth. Do this several times, just a little at a time until no more oil absorbs. After each oiling, wait till it's dries. The whole process will take more than a week, but the result is worth the trouble. Now it's ready to be used. At the end of each painting session, the wooden palette has to be cleaned before putting it aside. After cleaning, we should oil it with Linseed Oil.
With such treatment, your Palettes will always be pleasant to work with and easy to clean. There is a very easy and efficient way to clean your Palette with a non-toxic medium. At the same time, you can clean your hands in a very safe way. Dip tissue in normal sunflower cooking oil and gently rub it on your skin to remove any paint. This simple method is more efficient than any other skin care product.
A white Palette can also be cleaned with sunflower oil; after removing paint with the oil, the clean Palette should be degreased. You can do this in many ways. For example, you can wipe off a Palette with Turpentine, White Spirit or wash it with soap and water.
Now you can put aside your white Palette till your next painting session.
But what do you do if you squeeze too much fresh paint onto your Palette and you do not want to throw it away after a painting session? Here is a little trick – I do not throw away unused paint, it would be unreasonable. I have an extra Palette – here it is. I just shift all remnants on it from my primary Palette. So you can keep oil paint for future use; you can even place it in a fridge –the complete darkness and low temperature will prevent the oil colors from drying for longer. But you should place the Palette into a tight container for safety requirements.
Palette Knife
A Palette Knife helps mix the paint on a Palette. There is really no need to have Palette Knifes in various sizes and forms; it's perfectly fine to have just one, medium size, standard shape Palette Knife. I have a few at my disposal, but in reality I use only this one, my favorite, for years already. It works just fine when I mix big quantities of paint or if I mix small dabs of paint. You have to test the steel blade, which is blunt, to see how thin and flexible it is. I find that rigid and thick blades are not convenient to work with. If the blade of a Palette Knife bends as flexible as this Knife, then it is a very good tool for you to use. In the long term, it is self-sharpening and you can replace it with a new one.
It can be cleaned like a Palette – wipe it with a rug or tissue dunked in oil. This is the best cleaning medium – you see how neat and tidy my palette knife is, even though I've used it for years? Only the self-sharpened blade shows that it's not new.
Other Materials
You also need some rugs and tissues within your reach, for different purposes. Old cotton T-shirts and other natural, non-fluffy clothes will work. Kitchen towels can help as well, however I prefer to use simple facial tissues.
A "Painter's stick" or "Mahl Stick"– is a very helpful tool that supports the hand when painting details.
I find a simple light and stiff bamboo stick more convenient, than the Mahl Sticks sold in artist shops. A Bamboo stick can rest on the edge of the canvas, without touching the painting surface; while a Mahl Stick is quite short and is designed to recline on the painting itself.
But if you want to show off, you can acquire a Mahl Stick for about $25.
That's pretty much it, we have listed all the essential accessories you need to have.
Learn how to paint like the Old Masters!
Old Masters Academy Online Course
Self-study, self-paced online video course Lifetime membership One-time payment:
$487
Enroll Now!
Personal Tutoring online + Online Course
Unlimited tutoring by the Academy teachers Lifetime membership One-time payment:
$997
Enroll Now!