Art Lesson 16, Part 1
Discover Warm and Cool Colors – Oil Painting Glazing Technique
Learn how to paint like the Old Masters!
Get the complete Old Masters Academy™ course for only $487
ENROLL NOW!
« Back to the Art Lessons List
Warm and Cool Colors – Oil Painting Glazing Technique
The aim of this Video Lesson is to find out how Oil Colors behave in thin, transparent layers we call Glazing layers. We will learn how high intensity can be achieved by applying transparent Glazing layers and how they differ compared to Opaque layers. And, of course, we will examine the difference in the Tonal gradation from the very light to the maximally dark Tones.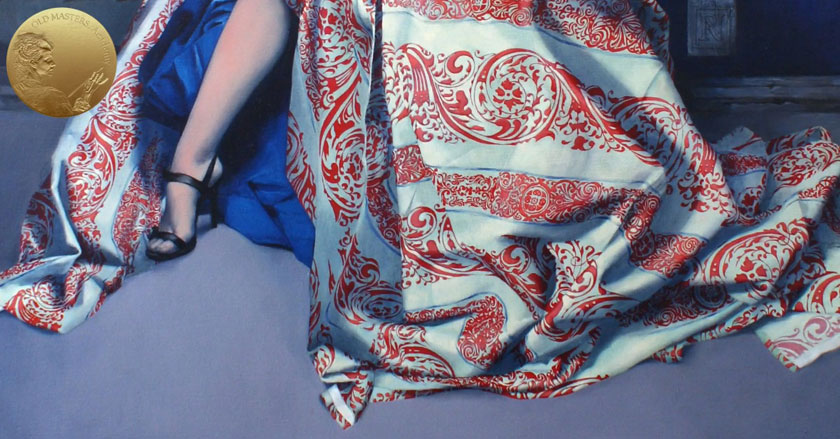 I have divided all Colors in two basic groups – Warm and Cold Colors. Please note that important Colors, such as Earth Colors, will be considered in the next Video Lesson. As we mentioned previously, you can create Glazing layers using any type of Paint, whether they are opaque or transparent Paints. Check the label of the paint tube – this tells you whether the paint is opaque or transparent. However, you could probably hear an opinion that ONLY transparent Colors are suitable for the Glazing method. Not at all. Any Color suits. However, it depends on the Tone of Underpainting layer – is it darker or lighter than your Glazing Color? We have to bear in mind that these charts are made on completely white backgrounds. But even a slight coloring of the background can affect the Color of the Glazes.
Let's look at this example, which illustrates the difference between Opaque and Transparent Glazes applied over White, Lightly Colored and Dark Underpaintings. Please use Worksheet #5 to do this exercise.
At the beginning, we create two symbolical Underpaintings – one contains Dark Colors, and the other contains the same set of Colors, only tinted with White. In this exercise we are testing the principles of Glazings. The name of the Colors we are testing does not matter right now. The result should be simple – we should have one Dark and one Light Underpainting.
Now, we have to glaze over these Underpaintings. This is what we are going to do now – schematically, the process will look like this: We choose 4 pairs of Colors for a glaze: two Yellows – one Transparent, another Opaque. Then goes a pair of Reds – also Transparent and Opaque. Continue in the same manner for the Brown and Black colors. Colors for Glazes were chosen at random. The main criteria is that the pair should be opposite in Opacity. Let's continue with our Chart. These are our 4 pairs of Colors. As usual, we are using Liquin to thin the Paint and to decrease the drying time of a glaze.
As you may notice, we have sealed the Underpainting between the glaze stripes with the masking tape,which will be removed after we complete the exercise. And one by one we will apply the Glazing Layers: first with the medium size Brush, and then with the Wide Flat Synthetic Brush to spread the layer evenly, removing excess paint and in such a way that we make that glaze layer even more gentle, more transparent. We add less Liquin to the Transparent Color and more into the Opaque ones, just to make them more or less equal in Tone.
What kind of conclusion can we make from looking at this exercise? You can glaze over a white or a very Light Background with any Color you fancy, whether it's Transparent or Opaque – the Glaze will be Transparent.
Yes, the Color could change, like in the example of Glazing with Yellow – over a slightly Blue background – it optically turns into a Green Color.
But the main conclusion is that whatever we choose for a Glazing layer, whether it is an opaque or transparent pigment, it will look transparent when it is diluted with a Glazing Medium and thinly applied.
Glazing can change both Tonality as well as Color itself. In one of the next Video Lessons we will talk about Primary and Secondary Colors and how they affect each other. Then you will understand why some Colors can alter each other and create different Colors as the result, while other Colors just change the Tonality.
So, here on a White and Light Background, Glazings of any Colors look transparent. However, things could change when we have a dark background. The darker Underpainting is the more visible and will be the difference between Opaque and Transparent Glazing. Glazings done with Colors that are much lighter than the background's Colors make it a bit dull and cloudy when they overlay the background. The more layers of Glazings there are, the cloudier the result will be. Glaze layers made with an Opaque Color are called Velaturas.
It is essential to know the opacity of Paint we are going to use; in Underpainting, especially for figure Underpainting, we need to choose opaque Colors for creating dense and solid layers. In making Glazings, it is not so important whether the Color is Opaque or Transparent. Everything depends on the task; if you want your painting to be absolutely, deeply transparent, keep clear of Opaque Colors in Glazings over a dark background. Otherwise, you can exploit such effect deliberately and create a brilliant work. Any variants could be executed brilliantly; everything depends on your level of skills. There are no strict rules – if it looks good, then it's good.
To recap, here are guidelines for you: For Underpainting, use Opaque Colors with high covering power. For Glazing, use both Opaque and Transparent Colors. In Underpainting, especially for figure Underpainting, we need to choose opaque Colors.
What you need for the task:
Worksheet #5
Prepared Support – Canvas, Canvas Board or Oil Painting Paper A3
Masking Tape
All Warm and Cold Oil Paints you want to test
Hog or/and Synthetic Brushes + Wide Flat Synthetic Brush for smoothing
Palette Knife
Liquin Original
Learn how to paint like the Old Masters!
Get the complete Old Masters Academy™ course for only $487
ENROLL NOW!