After 3 decades later, now I am ready to do what I always wanted to do
I am an newbie in oil painting or any painting. I sign up for the this class about one month ago.
I was consider myself very very talented in drawing when I was in high school but I didn't wanted have a normal life with decent standard of living… I mean, I love Art but I didn't go through the way what many masters went through. There was fear in my heart when I read life story of Van Gogh. I thought, I always able to in Art or painting after when I financially settle. So, I majored Engineering instead of Fine Art. Soon, I realized that I made wrong decision..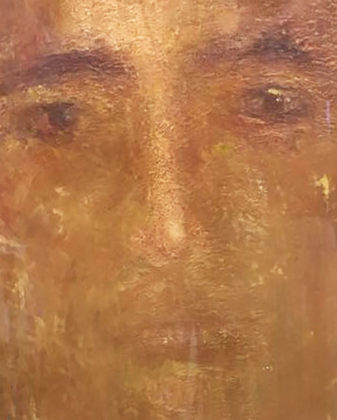 I was changed my major to Graphic Design and I able to get a job in this field but initial earning out of this field was same as amateur artist. Unable make living, I became computer tech. to just able to make living. After 3 decades later, now I am ready to do what I always tend to do.
I thought that oil paint is no different to drawing. Realized artistic talent alone, it is impossible to make decent painting with oil. Any other media, I was able to make decent art if I play with it for a month or two.
I have tried to paint a portrait with oil paint, I just could not make a painting the way I desired to express. I was shocked and frustrated. I couldn't believe what I was dealing with – Depth, Value. I can see them but I can put them on Canvas… Drying time, Mud. Paint properties was differ from paint color to colors… I mean, brown earth colors was actually made out from a soil.
If I knew, there were so many way to express. I was amazed with oil paint. Ah, if I knew this, I never would given up Art.
Well, I have tried for 3 months to paint a portrait, and I couldn't able to paint the way I desired. I realize that I need some start point… At least, some basics.
I have watched quite few videos from Old Masters Academy course. Now, I needed to start paint as shown in Lessons. I am sure that it will guide and teach me what I needed to start.
I know the facts that Just doing as what shown here won't make anyone to be a pro painter. However, those who has an artistic talents or those who put effort will be able to become a wonderful painter.
At least, I know in heart that this course will guide me where to start.
I will paint, it is my destiny and passion for the people.
Learn how to paint like the Old Masters!
Get the complete Old Masters Academy™ course for only $487
ENROLL NOW!