Artwork by Zain
I was 10 or so when I entered a drawing contest. I lost. I felt discouraged and did not draw again. Fast forward to my 20's I fell ill. I was diagnosed as schizophrenic; but I discovered Michelangelo. Then Munch. Then Van Gogh. Then Chagall and also Picasso. Then Basquiat. It opened up a new world and I became an artist.
Art is most of what I do. There is always music on. If I watch tv I look for things to draw in charcoal. My room is my studio. I enjoy this because I can work at any time with ease. If I could go back I would have continued to draw. Art saved my life.
My challenges are financial and also my disability makes it difficult to go to a traditional school. In terms of what I want to learn I would like to keep working on my drawing myself. I need work with perspective and anatomy but I have books. My main goal is to put what I feel and envision on canvas. I would love to have my paintings hung in a (national) gallery one day. I feel being a student of the academy is a step in the right direction.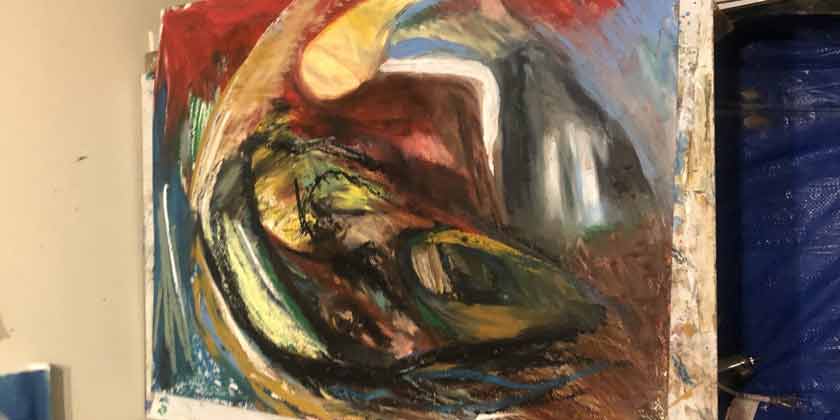 I was searching how to fix an oil painting and I came across the old masters academy website. In 15 seconds I learnt why my painting needed fixing in the first place. I had not painted it correctly. I have become very interested in going to art school but this academic method of learn at your own pace through video instruction and dealing with all the fundamentals is so important for an artist. I think the academy is very neat and holds a lot of potential.
I would like to win the course because it will help a lot and I am motivated. I almost gave up working on painting because my paintings are always a disappointment in terms of how it is painted. You can have a great picture in mind or one that just appears but you must have the skill to execute the picture. This is what I hope to gain from the course. I have been working on some digital work also because I simply do not have the skill to paint what I want on canvas. These lessons will help a great deal.
I think people should vote for me not because of a sad story or person but because art means so much to me and the happiness and prospect of peace justice and inclusion I believe art can provide. I hope to use art like Goya and Michelangelo as well as others I have mentioned: as a meAns to understand ourselves, the world, god and love. Thank you.
I want to win this Competition and I need your help!
Please vote for me by sharing this page:
---
Discover how to paint like the Old Masters using modern materials!