Artwork by John Marshall
mylastleonardo.com
John Marshall ( 12 February 1952 – is a contemporary realist painter who lives and works in Stoney Creek, Ontario Canada. A native of Dublin Ireland, his realistic paintings pay compliments to his subjects. John's distinctive personal style in reproducing Old Master paintings, particularly Leonardo da Vinci, emanates from the life and soul of the original masterpiece and expresses the vibrant spirit and atmosphere of the master himself. 
Apart from Old Masters, John's innate talent captures landscapes and people which are all brought to life with contrasting and harmonious colors and bold compositions. As John explains, "I want to look into the soul of the subject and be immersed in it's heart and spirit."
 
John graduated from the National College of Art in Dublin and studied art in Paris France.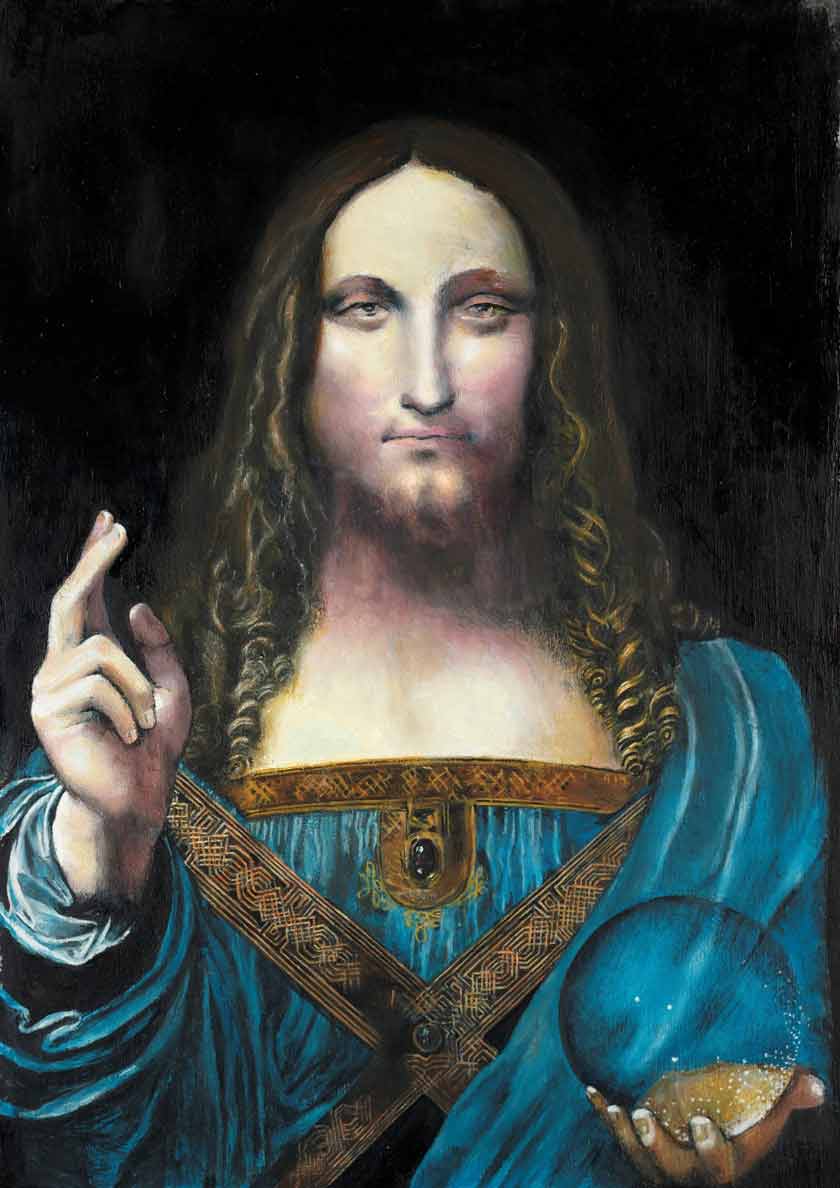 From 2013 to 2019, John received multiple advertising global awards for his patented new advertising innovation that attracted some of the biggest names to implement his new digital technology. 
Now, art is my single pastime and my life. It brings me back to my teenage years. My challenges are my determination to make each canvas better than the one before and to make each paining EXACTLY like the original. Now that I have left the blood sweat and tears of daily working life, I want to learn as much as I can about the old masters and Leonardo da Vinci in particular. I know nothing about the Old Masters Academy , but winning your award would make me a part of your world and your community. I believe that my ability and my eye for detail allows me to reproduce old master paintings as exact replicas and that my Salvator Mundi is an example of my talent.
With a fascination of Leonardo da Vinci for many years, it took a hospital visit and the chance reading of "The Saviour of the World" to renew my passion for painting , in particular Fine Art and Renaissance. The Old Masters have been a fascination for the world and reading the story and history of Salvator Mundi, motivated me to channel Leonardo's technique and spirit. The painting was completed in August 2021 is a replica of the original Salvator Mundi. Taking over 10 months to complete, I sent an image to some of the leading Old Master historians and Leonardo experts in the world. The responses he received were amazing (see below)
Salvator Mundi (Latin for "Savior of the World") is a painting attributed in whole or in part to the Italian High Renaissance artist Leonardo da Vinci, dated to c. 1499–1510. Long thought to be a copy of a lost original veiled with overpainting, it was rediscovered, restored by Dianne Dwyer Modestini, Clinical Professor at the Institute of Art, NYU, and included in Luke Syson's major Leonardo exhibition at the National Gallery, London, in 2011-12. Christies claimed just after selling the work that most leading scholars consider it to be an original work by Leonardo, endorsed by Martin Kemp, one of the world's leading authorities on the life and works of Leonardo da Vinci.
On November 15, 2017, the painting was then sold at auction for US$450.3 million by Christie's in New York to Prince Badr bin Abdullah, for his friend Mohammad Bin Salman, setting a new record for most expensive painting ever sold at public auction.
Dianne Modestini
Aug 12, 2021, 11:45 AM (2 days ago)
to me
Dear John,
" Thank you for sending this. Bravo! It must have been a lot of work. We should compare notes some time. I have half an idea that I would like to make a copy myself—after I've retired! "
Best wishes,
Dianne
​
Dianne Dwyer Modestini is Clinical Professor for the Kress Program in Paintings Conservation at the Conservation Center of the Insitute of Fine Arts, NYU. and restored the original Leonardo da Vinci Salvator Mundi c 2005
​
Dianne is also a world-renowned restorer, conservator, and expert on 19th-century paintings. She graduated with a degree in Art History from Columbia University and enrolled in further studies afterward. By 1973, Modestini had obtained her Master's and Certificate of Advanced Study in Art Conservation in New York, per Salvator Mundi Revisited.
Martin Kemp Fri, Aug 13, 5:25 AM (1 day ago)
to me
​
Dear John,
"Very many thanks. A number of artists have tried. It looks like a very good effort! Leonardo's later works are the hardest of all to emulate. John Marshall has done an unusually good job".
​
Best wishes,
Martin
Martin KempEmeritus Professor, Oxford University
Honorary Chair of the DaVinci Network
https://www.davinci-network.com
​
Martin John Kemp FBA is a British art historian and exhibition curator who is one of the world's leading authorities on the life and works of Leonardo da Vinci. The author of many books on Leonardo, Kemp has also written about visualisation in art and science, particularly anatomy, natural sciences and optics. Instrumental in the controversial authentication of Salvator Mundi to Leonardo, Kemp has been vocal about the Leonardesque qualities of the Salvator Mundi and La Bella Principessa. He has lead opposition to the "Isleworth Mona Lisa" .
I want to win this Competition and I need your help!
Please vote for me by sharing this page:
---
Discover how to paint like the Old Masters using modern materials!