Artwork by Despoina Kantere
I love art and writing stories.
Art for me is the air that I breath, art is an escape form the real world that makes the latter brighter and more beautiful.
I sense the soul of people and I like to interpret it in my work. I create portraits in oil trying to capture a feeling, a moment, a story to tell.
Art is like a poem. You do not always understand it but calms your soul.
I need to become better in oil, to capture the details, the light and the background.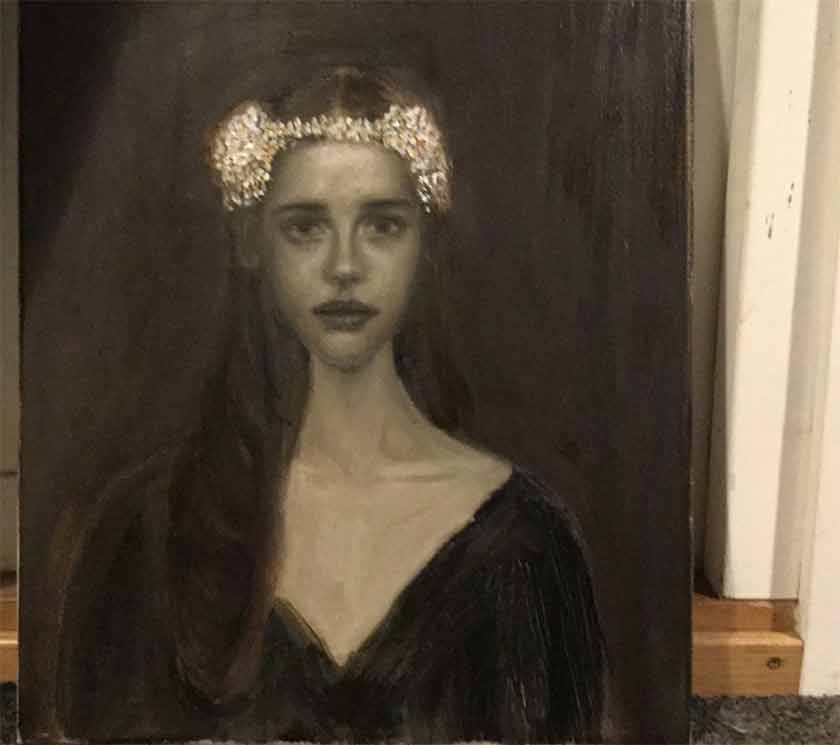 I think by studying with you I will achieve this goal. By studying the old masters, I can learn better the anatomy of the faces, and learn based on that a systematic way to create a portrait from the design, to oil painting, to interpretation.
I really believe by a following an advanced program I can become a more consistent painter.
Moreover, during the years that I have practiced by myself many questions have arrised such as; how to I prepare the canvas, how many layers of oil is recommended, where to I but the green and blue, which pallets are the best, how do I create realism, superrealism or more loosen form?
I have worked with pencil and charcoal a lot so I have some experience with values but is is a lot more difficult with colors. How can I find my own style?
I strongly believe that the best way to learn is from the masters, and you are the living ones.
I have learned everything by myself, achieved somethings but I need more to progress.
I am a learner and a creator and a storyteller.
I have some projects in my head that I am convinced that after your lessons I will be able to create them
Thank you
I want to win this Competition and I need your help!
Please vote for me by sharing this page:
---
Discover how to paint like the Old Masters using modern materials!