by Rosily Roberts
Titian was born in a small town at the foot of the Dolomites on the Venetian side of the Alps. While there is no documentary evidence of the exact date of Titian's birth, contemporary sources and his early development suggest that he was born around the year 1490. Aged only ten, Titian arrived in Venice, which, at the time, was one of the wealthiest and most cosmopolitan cities in the world, to begin his artistic training.
Titian developed his early style through contact with the artist Giorgione, whose influence can be seen in the pastoral mood that pervades many of Titian's works. The pair worked together on the external walls of the Fondaco dei Tedeschi in Venice in 1508-09, a commission which earned Titian much praise from their contemporaries. In 1511, Titian painted frescos in the Scuola del Santa in Padua, which were highly celebrated. By this point, his style had reached maturity, marked by fullness of forms, compositional confidence and well-balanced colours.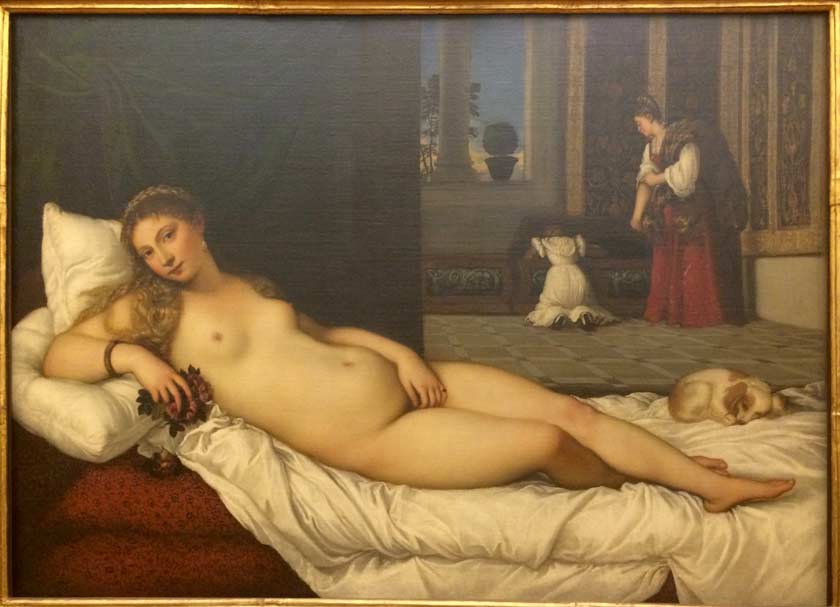 He went on to become famous as a portraitist, and drew the attention of intellectually ambitious Italian dukes and aristocrats for his depictions of various profane subjects. He was also commissioned to paint prestigious public religious paintings, including, notably, the Franciscan church of Santa Maria Gloriosa dei Frari in Venice. His depiction of the Assumption of the Virgin Mary, which is nearly seven metres high, is widely considered to be a pinnacle of Venetian altarpiece design. It is imbued with a sense of dynamic movement and drama, which is emphasized by the dramatic lighting in the sky. He also places the group of apostles at the bottom of the composition in darkened shadow, which serves to strip them of their individuality and make them appear as one, homogenous group. When initially shown, it was met with mixed reviews, as contemporary viewers were unused to seeing such emotional or dynamic works, particularly in a religious setting.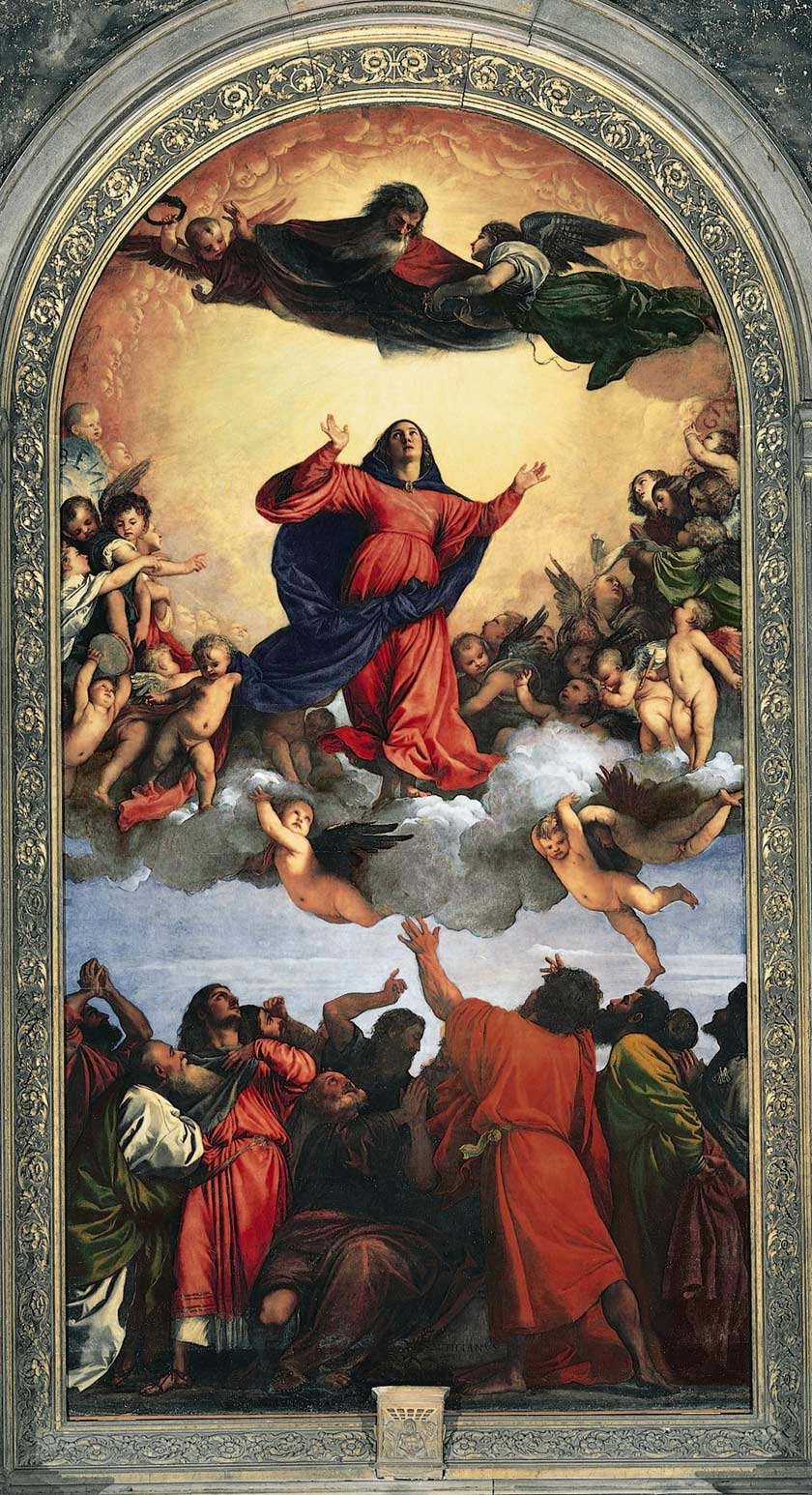 By the 1530s, he was in touch with the court of Pope Paolo III Farnese. In 1530, Titian met the Holy Roman Emperor Charles V in Bologna, which proved to be a pivotal moment in his life. He executed a life-size, full length portrait of the Emperor, which, although now lost, proved to be an early example of an extremely innovative genre. He quickly became principal painter to the imperial court, which gave him increasing privileges, honours and titles, and he became the most sought-after painter in courts across Europe. He was also the official painter for Charles V's son, Phillip II of Spain, painting a celebrated series of mythological paintings for him in the 1550s.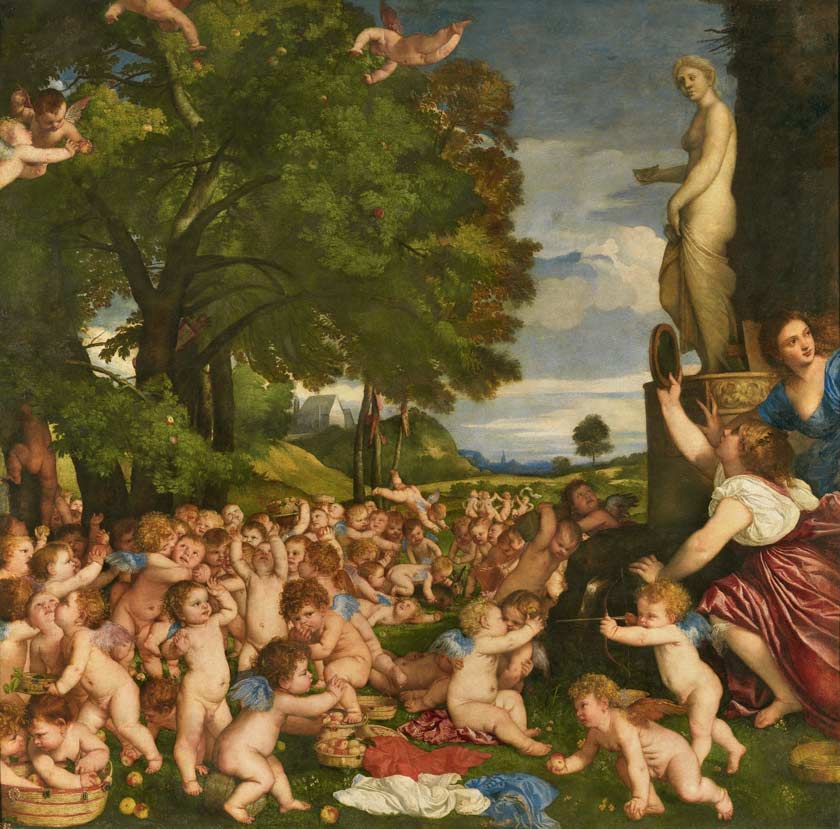 His fame and repute continued until his death from the plague in 1576.
Titian was most well-known for his bold use of colour, which he achieved through seeking out rare pigments and using them in rich and saturated forms, as well as carefully balancing complementary colours together. He also focused on the effect of light on colour, and experimented with light effects to emphasize his contrasting colours. His work exemplifies the Venetian preference for colour, a definitive aspect of Venetian art as opposed to that of Florence.
He worked almost exclusively in oil, which, at the start of his career, was a relatively new technique in Italy, where tempera and fresco were still the primary methods. Due to its slow-drying nature, oil paints allowed him to build up a series of glazes, and to accurately depict the appearance and texture of the human form with a new delicacy and softness. This is particularly evident in his rendering of female nudes, which were often unusually sexually suggestive for the time period.

Titian's later work is characterized by loose brush strokes and expressive application of paint. It is likely that, on occasion, he used his fingers as well as brushes to apply and blend paint. This method allowed him a fluidity that gave his work a greater sense of movement and emotion to his work, and stood him apart from his peers.
Toward the end of Titian's life, he radically redeveloped his style and technique, favouring much freer brushstrokes and less descriptive representation of reality. In the late 1560s and early 1570s, when Titan was very old, his work was pushed to near-abstraction, a style which has been defined as 'magic impressionism.'
References:
'Titian, 'active about 1506; died 1576,' The National Gallery, nationalgallery.org.uk/artists/titian
'Titian, Italian Painter,' The Art Story, theartstory.org/artist-titian.htm
---
Learn time-honored oil painting techniques of the Old Masters!
What you will get: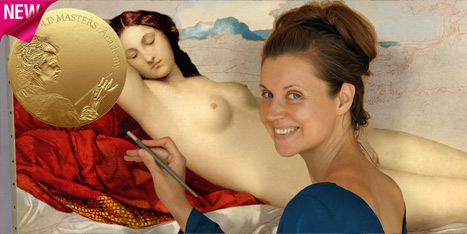 Instant access to all 60 multi-part video lessons
A lifetime membership
Personal coaching by the course tutor
Constructive critiques of your artworks
Full access to the Art Community
Exhibition space in the Students Gallery
Members-only newsletters and bonuses
Old Masters Academy™ Diploma of Excellence
How you will benefit: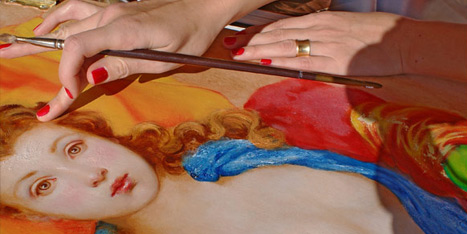 The Old Masters Academy™ course is very comprehensive, yet totally beginner friendly. All you need to do is watch video lessons one by one and use what you've learned in your creative projects. You will discover painting techniques of the Old Masters. This is the best art learning experience you can have without leaving your home. All information is delivered online, including personal support by the course tutor.
Learn how to paint like the Old Masters!
Old Masters Academy Online Course
Self-study, self-paced online video course Lifetime membership One-time payment:
$487
Enroll Now!
Personal Tutoring online + Online Course
Unlimited tutoring by the Academy teachers Lifetime membership One-time payment:
$997
Enroll Now!