Artwork by Carmen
My name is Carmen. I have always demonstrated a passionate interest towards art since I was little. I remember my first dream was to go to Paris and become an artist when I was five years old! Art has always taken the most important place in my life. A lot of people including my family and my loved ones have tried to dissuade me from pursuing my dream. They say art is not a profession. Art won't make you money. Art is a hobby. It spends money instead of making money. But I have this fire in me… this desire which pushes me to pursue it. Art is my passion. It is priceless. I guess it's a trait for artists. Most of them don't do this for the money. They do this because they are passionate about it.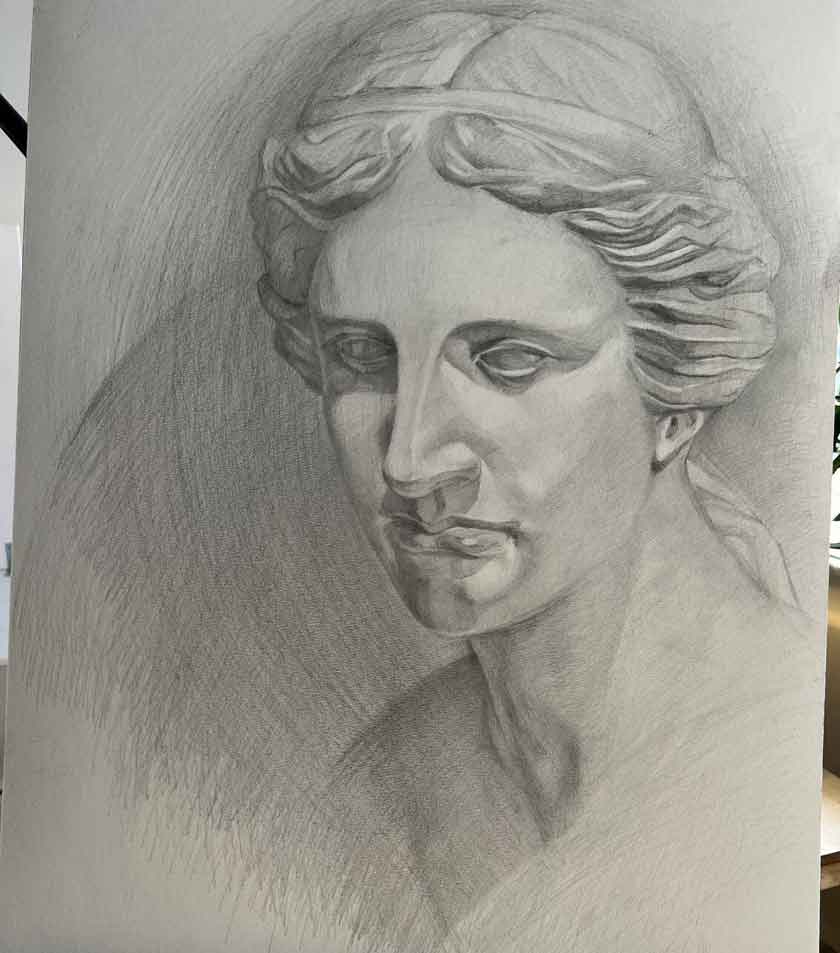 The most artistic challenge I face is i am too much of a perfectionist. I refuse to create mediocre work, which even limits my chances to practise. I want everything to be perfect at the first shot and this sets me back. I have once told my instructor that I want to be Michelangelo or nothing at all! I have very high expectations for myself. This sounds pretentious but that is really how I feel! Perhaps I am too harsh on myself…. The second challenge I face is time. With a busy lifestyle, I lack time to create.
I want to learn the classical way of doing art, just like to old masters…. I think Old Masters Academy is what I need to profound my art skills. I looked at the introductory videos. It sounded authentic and professional. I have a lot of respects to Vladimir London and his colleagues. I think they are doing a wonderful job. I have the gut feeling that they are teaching art the right way and they are treating art in the most sacred and serious way.
I would like to win the Old Masters Academy course because I want to give myself a chance to learn from the best teachers. I don't have much pecuniary aspirations from life. For me, money is a tool and a mean to an end. It is not my goal. Hence all my life I lack money. Winning this contest would help me pay for my tuition fees. I want to learn from the best of the best. Only learning from the best will give me a chance to succeed.
People should vote for me because I am a passionate person about art, and I spent a lot of time and efforts finishing this piece of work. I treat art most seriously. It's almost a sacred domaine. It's my reason to live.
I want to win this Competition and I need your help!
Please vote for me by sharing this page:
---
Discover how to paint like the Old Masters using modern materials!