Artwork by Seyedeh Ayeh Mirrezaei
I am an architectural designer and visual artist. I graduated from EMU ( North Cyprus) university in the field of architecture (MSc) in 2015. I am so interested in designing in various categories from architecture to furniture, from yachts to jewelry. Painting, photography and music are three of my hobbies. They helped me to shape my future as an architect.
My inspiration is nature , natural processes (biophilic and metamorphosis design) and a colorful world. Nature is full of amazing, colorful and unknown destinations that we can enjoy. Lovely animals, flowers, blue skies, beautiful mountains, marvelous seas and the specific world of underwater as well as our galaxy are the best that we can inspire in our life. Wherever there is a color, my passion blossoms. What I am seeking is to transfer the mystery of our magical world to others through my arts just like a dandelion's dance in the garden.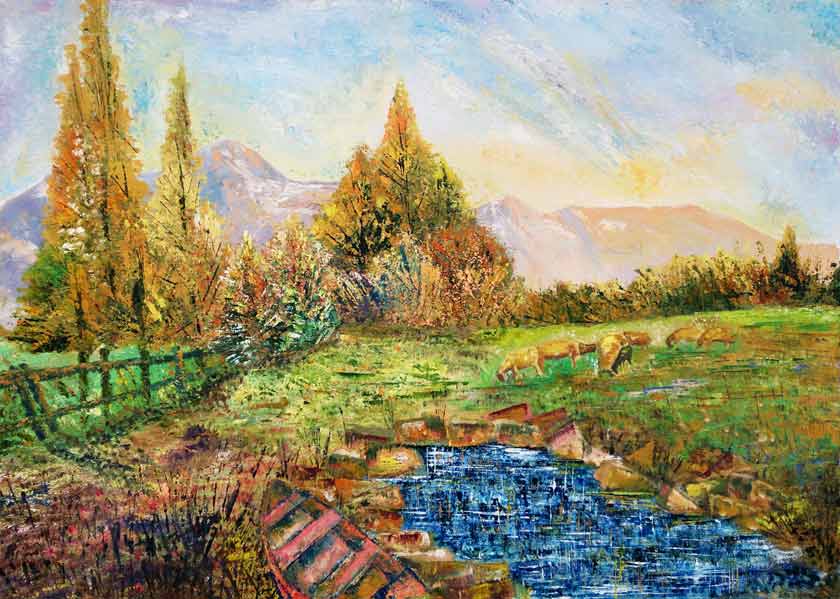 I attached one of my oil paintings (Mountainous Landscape).It is oil painting on canvas. My favorite painter is Van Gogh. He also has a different view into our world. He saw our world beyond our normal eyes. When we see his works, we can travel into the magical world of emotion. He touched our spirit and heart.
One of my dreams is to be a painter like Van Gogh in the future. So I am really interested in learning the techniques of his paintings and other impressionist painters such as Paul Signac, Maurice Prendergast, Andre Derain and Monet.
I think the Old Master Academy is one useful website to help people like me to learn the right patterns of original painting as well as meet the right people in this category. I am happy to visit this website to develop my abilities.
Regards
I want to win this Competition and I need your help!
Please vote for me by sharing this page:
---
Discover how to paint like the Old Masters using modern materials!