Artwork by Karen Ferrand Carroll
I've always loved the creative process for as long as I can remember. From crayons and clay to oils and acrylics l loved it all. My first real exposure was about age 8 on a school trip to see an exhibit of the works of da Vinci, It was love at first sight. Of course when it came to a course of study in school I was bombarded with the usual " study something practical" and "no one can support themselves with art".
Fast forward through the years, marriage, kids, job, bills, parents and any my time got pushed to the back. Grab a little time here and there, painted when I could. Self learn from whatever I can sneak in. I feel I was blessed with the ability to see with the wonder and fascination so many of us out grow or put aside because 'it is time to grow up'.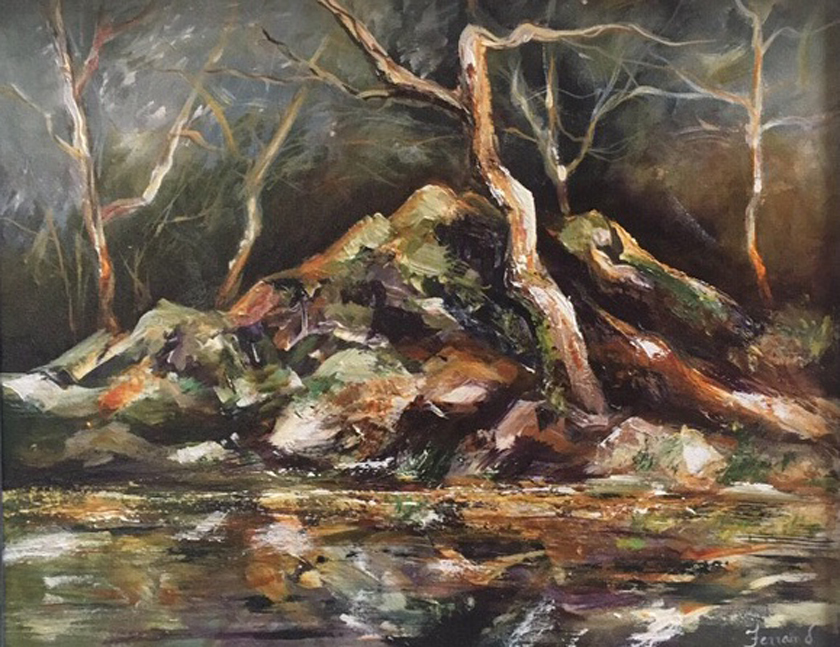 I was an instructor at the College of Micronesia for several years, I became involved in the art world when I could, for many years in many different incarnations. I chaired the Governor of Pohnpei FSM Endowment of the Arts Program. Among my most notable commissions are portraits for the first President of Micronesia Tosiwo Nakayama, first Governor of Pohnpei Leo Falcam, Playboy founder Hugh Hefner, as well as works in private collections. I was the resident artist for Islands Echoes and P.MA. magazines.
My works have sold throughout the Pacific Islands of Hawaii, Guam, the Republic of Palau, Truk, Pohnpei, Yap, The Marshalls and Japan was well as D.C., California, New York and Connecticut.
Most recently my paintings have been on display at the Gallery at the Wauregan in Norwich, CT and 'See.Me Times Square' exhibits. I have also authored and illustrated several children's books, which currently is my new passion.
I'm now 66 and still feel there is so much more to learn about the bones of painting from the masters.
Visionsbyferrand.com