Artwork by Lalo Celi
I have always loved art. When I was a kid I used to draw all the time, but never worked with paintings until one of my daughters asked me to paint something for her.
My first painting was an abstract related to Tennis because my daughter loves Tennis. The panting was done using four canvases, one 15×30, two 20×24 & one 10×10. The 3 big ones showed the colors of the four majors (Australian, French, Wimbledon & US Open) in the order they are played every year, and the small one showed a tennis ball in the shape of a heart flying though the sky. As I begun to spread the oil painting, it was love at first brush, I was transported to another World and have stayed there.
My 2nd painting was a portrait of my cousin as the famous "Blue Boy" by Thomas Gainsborough. The idea came from my cousin making fun of old paintings dressed in that era fashion while we were visiting a museum. It provided a lot of laughs the day I presented to him. But most important, I was hooked to portraits, and oil painting.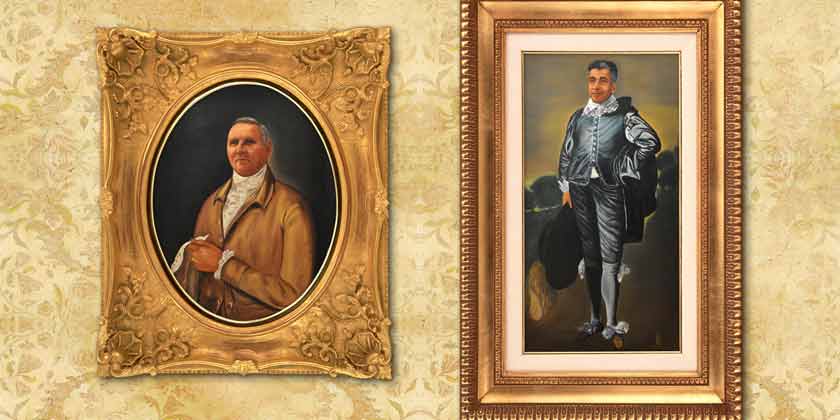 What place does art take in my life?
Art has always taken a very high place in my life, but as many of us, we grow up hoping we can do what the masters have done, but many times that hope does not translate into action, we doubt ourselves, and unless something like what happened to me by my daughter asking me to do what I had only dreamt of doing, we continue our lives admiring other people's work but never trying ourselves.
I am self-taught, but I do understand that I need to learn from people who know and can teach the techniques that I admire from the masters, I need to learn from the best.
I want to learn the techniques of the masters, glazing, imprimatura. I have always admired artists like Rembrandt, Peter Paul Rubens, and many other from that era.
I have seen the results from many of the Old Masters Academy students, and the evolution of their technique is amazing, it is what I want.
I just hope that people can identify with my stories, and if they do that they decide to vote for me, that is all I can ask.
I want to win this Competition and I need your help!
Please vote for me by sharing this page:
---
Discover how to paint like the Old Masters using modern materials!