Paintings by Amina Davis
I am a 16-year-old black girl who has been obsessed with art since I could pick up a pencil.
I love the earth and everything on and around it. I excel academically and socially as I charm almost everyone I meet with my wit and charisma.
Art has always been my way of venting and coping with the struggles of my reality. My first media was ballpoint pen; then I moved onto ink and colored pencils, crayons, watercolor, collage, and I finally fell in love with acrylic paint-my true calling.
Art is my life. Everything I do is to work towards my dream of being financially sufficient through the sale of my artwork.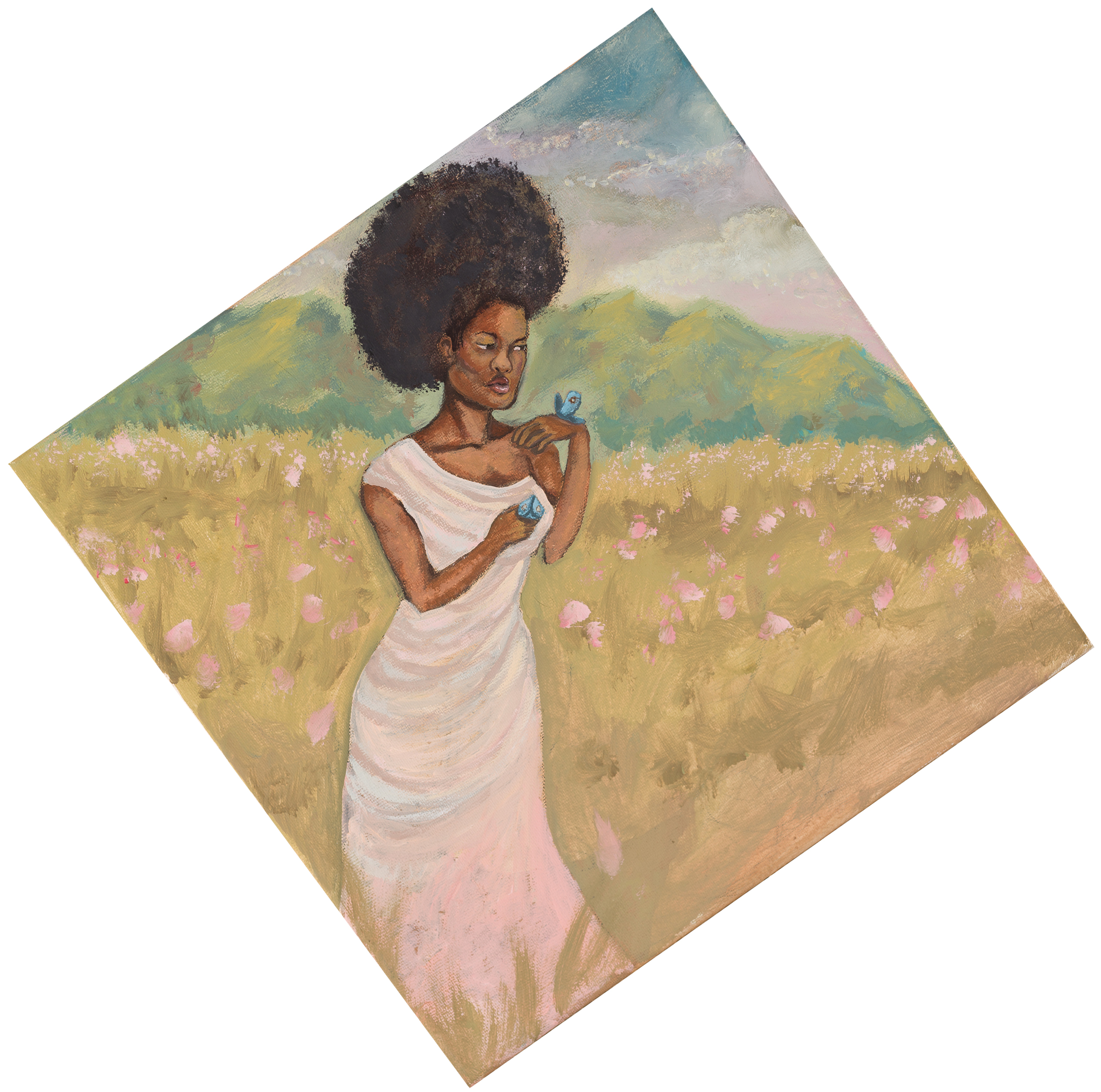 Art is my healthy method of emotional release and raw expression. It is my way of being vulnerable with the world. In my artwork, I have recently struggled with achieving proper proportions, color theory, achieving contrast, and creating a dynamic and emotional composition.
I would love to learn how to improve upon all of these things and how to paint better plein air and still life compositions, how to create an apparent narrative within my painting, apply paint methodically to the canvas, and how to achieve convincing life and light within a painting.
Outside of painting, I would love to dabble more into clay sculpture, magazine collage, abstract painting, textile work and graphic design.
I think the Old Masters Academy is a saving grace within an era where the classical approach to painting is not heavily focused upon. It is a breathtaking guide to creating the images straight from your mind with apparent life and emotion like the old masters that art students envy.

I want to win the Old Masters Academy to have the opportunity to evolve my artwork into something my professional and impactful. I want to develop the confidence to tackle any artistic obstacle that any client or teacher or I want to take on.
Overall, I want to develop my personal voice so that I can stand out as an artist but also be technically sufficient.
The gracious voters should vote for me because I am a sincere young woman planning for her future and chasing her dreams. I am filled with the same giddy ambition that they once harbored in a kindergarten classroom wanting to grow up and be an astronaut or fire fighter. They should vote so I can chase my dreams and inspire others.
aminadavis.weebly.com