Artwork by Liebner-Anthony Van Zyl
Liebner-Anthony Van Zyl's work is beautifully put together with the use of thick and short brush strokes. It creates a unique experience with the approach of emotion and logic.
Van Zyl creates portrait style paintings with a contemporary approach, his minimal use of detail and his restrained palette is evocative of Henri de Toulouse-Lautrec's lithographs. Van Zyl's work conveys a subtle and moving sense of struggle of the personal self, and there is a resonance with that struggle for us all. Nothing is ever as easy as it seems.
Liebner-Anthony van Zyl completed his diploma in Fine and Applied Arts at Tshwane University of Technology in 2011. Van Zyl was selected in 2008 for a student group exhibition at the Pretoria art museum and took part in two, two man shows. In 2011, Forests of Expression and June 2012, Expression…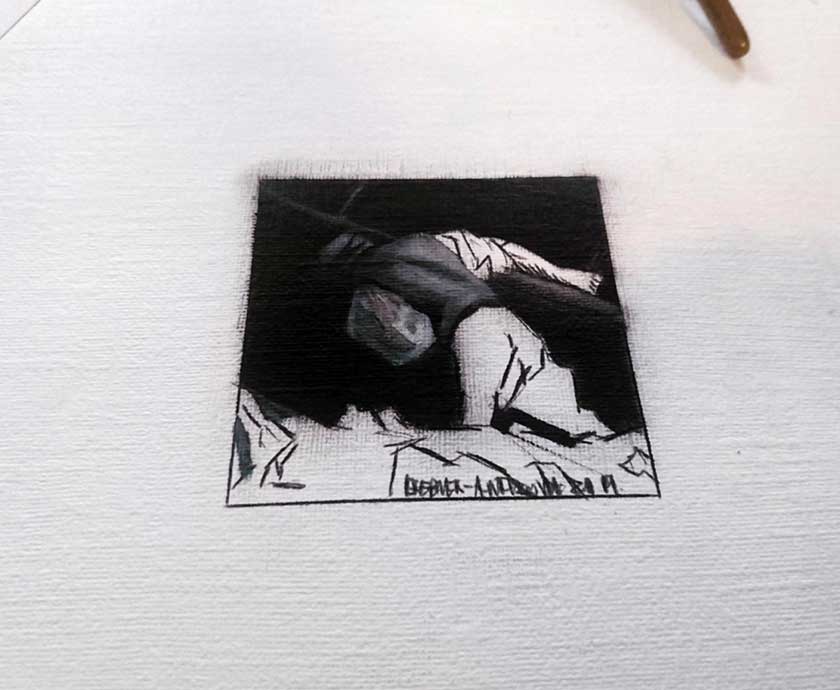 His work was selected for a group exhibition curated by Elfriede Dreyer, at the Fried Contemporary Gallery in Pretoria 2013 and was shown alongside artists such as Dirk Bahmann, Gordon Froud amongst others.
In 2014 van Zyl entered the Art Lovers 1932 competition and was selected as one of the finalists, curated by Diane Victor and Carl Jeppe.
Liebner-Anthony van Zyl was invited to show his work at the 2014 Turbine Art Fair through Art Source South-Africa, exhibiting with well-known South-African artist such as Usha Seejarim and Wilma Cruise.
In 2016 van Zyl had received a review from the Luxembourg Galerie Hervé Lancelin Competition which stated "A very contemporary approach that the artistic committee has enjoyed discovering. Very moving works that leave a definite impression. Poetry is very present."
Two years later, in 2018, Liebner-Anthony van Zyl entered the BP Portrait Awards competition where he was acknowledged for his practice in portraiture. He was shortlisted in a group of 215 artists out of 2667 international participants to send his work to the BP Portrait award gallery, received and curated by Clementine Williamson, Central London, London, UK.
Liebner-Anthony van Zyl would like to reach a space where an institution such as the OLD MASTERS ACADEMY can help him to hone and grow his professional art practice to the next level. Van Zyl trusts that this competition can make his vision into a reality. Liebner-Anthony van Zyl works and lives in Centurion, Gauteng, South Africa.
Van Zyl want's to learn the fine balance between realism and expressionism.
instagram.com/liebneranthony/