Artwork by John Fowler
(johngerrardfowler.com)
Hi, my name is John Fowler – that's a good place to start if it's all about me. Is it all about me? This was certainly the feeling I got when I went to Art School in the 1980's. A friend asked me recently what I had learned during those five years and I struggled to think of anything apart from how to drink, how to survive with zero money and how to tolerate the personalities of art students. Certainly the tutors seemed to have mastered the art of drinking many years before and were pretty good at avoiding students too.
On beginning my painting degree I found myself disillusioned and disappointed with the course and the environment. It was my own fault really – I had worked really hard on the foundation course and had fired myself up with the thought of being accepted onto the degree. But I had this fantasy that I was actually going to be taught how to paint there! How silly of me to think this. The vision I had projected onto the college was sadly disappointed. Why was this? What was Art School supposed to teach you? I can only imagine now that we were all thought of as geniuses and we were left alone for three years in a 6' x 10' white box so we could express our creative genius without the burden of the tuition in skills and techniques.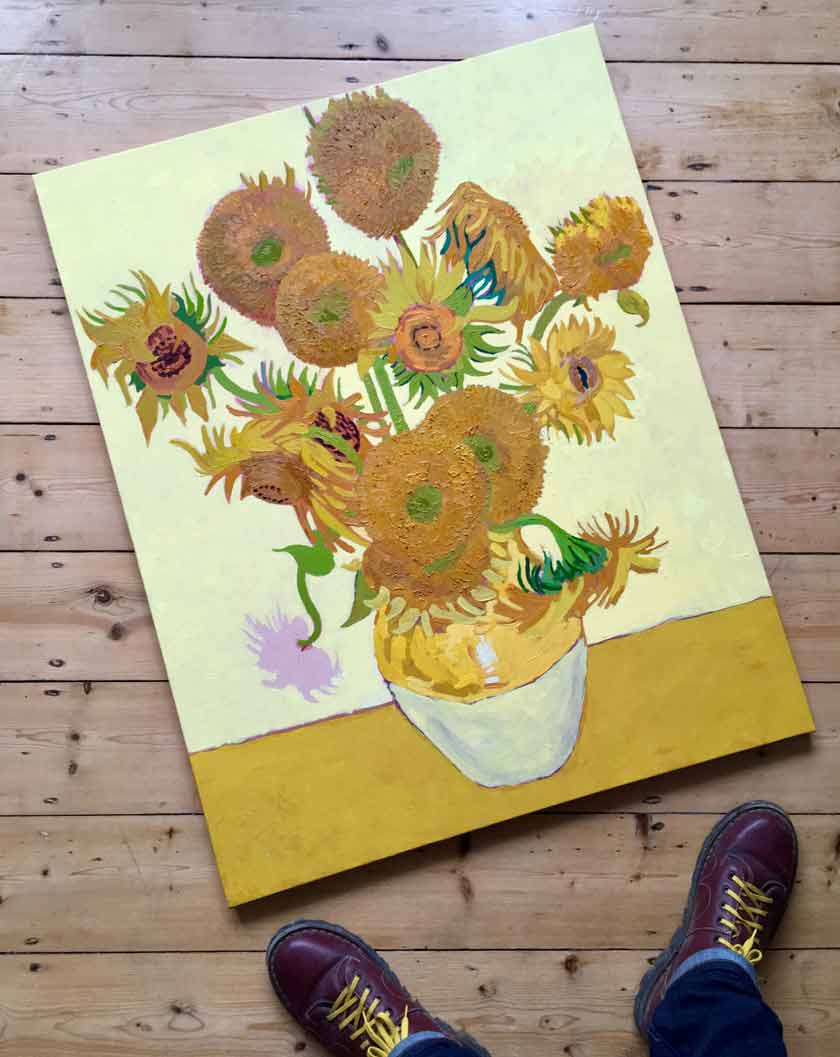 How could this happen? What was it about the history of art that had led to this situation? Why was there so little emphasis on the learning of craft and practical skills? Perhaps it is the 'myth of the genius' that has pervaded art history. The selective mythology of the 'great artist' whose creativity springs from a well of imagination that cannot be taught. Of course there is some truth in this but art historians often ignore the study and tuition that these 'great artists' received and continued to seek out in their lifetimes. I cannot imagine the same approach for other art disciplines. Would a music college put a student in a white room with a violin for three years and tell him/her to 'just be creative'?
I realise that the 20th century's cultural shift to humanism and existentialism placed the individual at the centre of the universe and that art historians were looking for artists who personified this shift. Also, the perception of art movements as wholly revolutionary became very attractive but often unfairly and inaccurately portrayed them as separate from preceding culture. Anyway enough about me? Well I guess this is my point. To make a beautiful, unique artwork or piece of music that really connects with people then, yes, it certainly needs to be imbued with the personality and humanity of the artist. But what about the language and skills needed to do this? Surely the artist has to have a level of technical skill in the craft in order for them to communicate fluently.
Art takes a central place in my life – I began drawing cartoons at the age of 8 and studied painting at Art School for 5 years. I worked in the print world as an artworker and illustrator for 15 years. I am currently an art photographer who has to make money occasionally shooting weddings. I am studying the work of Van Gogh and have realised that there are large gaps in my knowledge, skills and painting techniques. The idea that Van Gogh was an unstable genius who attacked his canvasses with fiery unplanned abandon is a fallacy and myth that seems to continue to pervade popular culture.
I wish to improve and enrich my painting knowledge and skills with the help of dedicated tutors who are also practitioners. I wish to go on to use these skills to create work that satisfies me and hopefully brings pleasure to others.
I wish to learn and have insights into the methods and materials of the old masters. This will hopefully translate into the practical ability to create beautiful, accomplished paintings that express my own personality.
Old Masters Academy seems like a perfect fit for my needs. Dedicated, practitioner tutors; detailed instructional videos and also the priceless feedback of an expert in the field.
Everybody likes to win a completion, but why do I deserve to win above anybody else? I cannot speak for the other people but I'm sure they are as dedicated and hard working as me. They must love the subject as much as I do and intend to spend the rest of their days in continuous self improvement. Financially I would be able to invest the usual course cost in the finest materials and a trip to the Uffizi Gallery – although I am lucky enough to have London's fabulous and free art galleries only one hour away.
I hope that voters can see how passionate I am about art and are assured that this course will in no way be wasted
I want to win this Competition and I need your help!
Please vote for me by sharing this page:
---
Discover how to paint like the Old Masters using modern materials!