Artwork by Louis Degni
Born a long, long time ago in Utica, New York, USA 1952 I started drawing seriously by the age of 9. At that time in my life I was inspired by landscapes and Walt Disney Cartoon Characters the latter of which I sketched many times (those sketches are buried in my website listed above). My teachers saw something in me and recommended that I receive formal instruction.
As the years progressed I worked with my father, a house painter, who taught me color theory. In those days a common house painter often had to mix colors and match colors from a white base (often white lead). It was my father who brought me to an Italian church artist in the city of Utica, New York State, USA. His name was Ernesto DeSanctis and he was a relative of Italian Artist Giuseppe DeSanctis (21 June 1858 – 18 June 1924) I apprenticed with Ernesto DeSanctis when he was in in his 80s. My training was very traditional and I would say consistent with old masters techniques.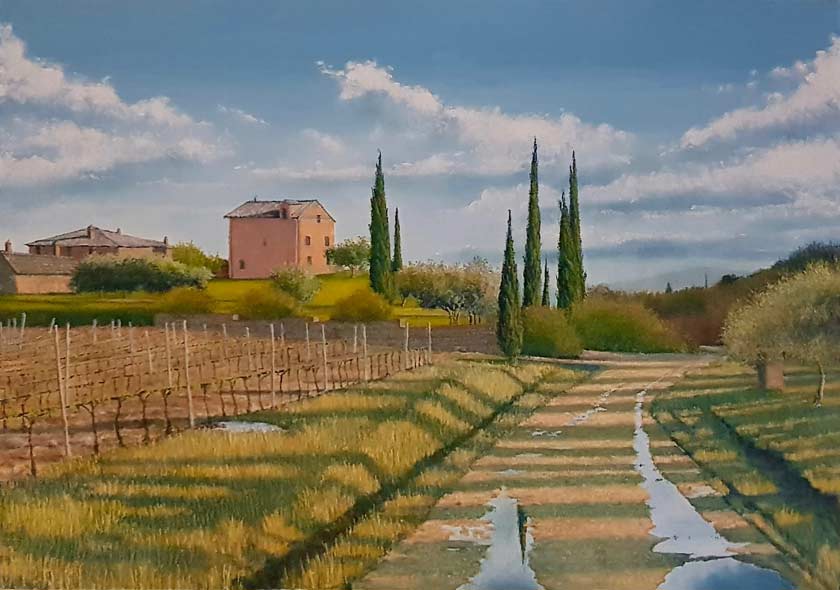 The pieces I worked on with Ernesto were large scale murals in various churches. I worked on things like sky and background, In fact I think I can paint a cypress tree with my eyes closed. As time progressed I became an art major at university and decided art, especially church murals, would be my profession. Then the dark period began.
My family, especially my father discouraged me from a profession in religious murals and art in general. The logic was that work in the area of church murals was "dead" and at best only restoration work would be available. I was told that I would end up being a house painter and wallpaper hanger at best. Then almost as an ominous warning my portfolio of about 80 pieces was lost in a house fire. And so began the dark period, in my life journey through art, from age 21 until recently (age 64). During those years I produced only a few pieces for charity. Life had set in, I had bills and children and all of those things that kept me from art. Perhaps those are just excuses I always did wonder if was "good enough?"
The bills are paid the life obligations met and I am finally back to my artwork, living and painting in Citta della Pieve, Italy. Here in Italy I am surrounded by beautiful art to study. But the road back has not been easy and the reason I am submitting this essay is to see what you think of my ability and if you can help.
I have painted several landscapes, florals and have done a few portrait drawings. I don't want to be known for one particular type of painting such as being known as "that landscape artist." I think my style reflects my traditional training with some elements impressionism.
I believe that every artist at every level should receive some training periodically. I also believe in the statement, "You are an artist until someone tells you that you are not and you actually believe that". Coraggio!
PS I am seriously considering enrolling in the Old Master's Academy and appreciate any thoughts about that with regards to the pieces I am submitting with this essay.
facebook.com/degnilouis/