Artwork by Zurab Eradze
I am Zurab Eradze from Georgia. I am 20 years old. I am studying Civil Engineering in Georgian Technical University, Tbilisi, Georgia. I am learning painting from my childhood via videos, internet and books. Art is important in my life. I spend main part of my time for paint, looking for information about art and artists. I study old masters and also modern artists and their artwork.
When I was 7 years old I interested in paint. My first painting was for my mother's Birthday. I grow up in village, and because of this, there was not ability to go to art school and study paint technics details from teacher. My main skills are rely on my experience.
Art is paramount at all stages of human development, and it plays an important role in shaping a person. Painting is the most important thing in my life. I try to look at the world through the eyes of an artist and see the indirect meaning in every detail, nature is the greatest creator!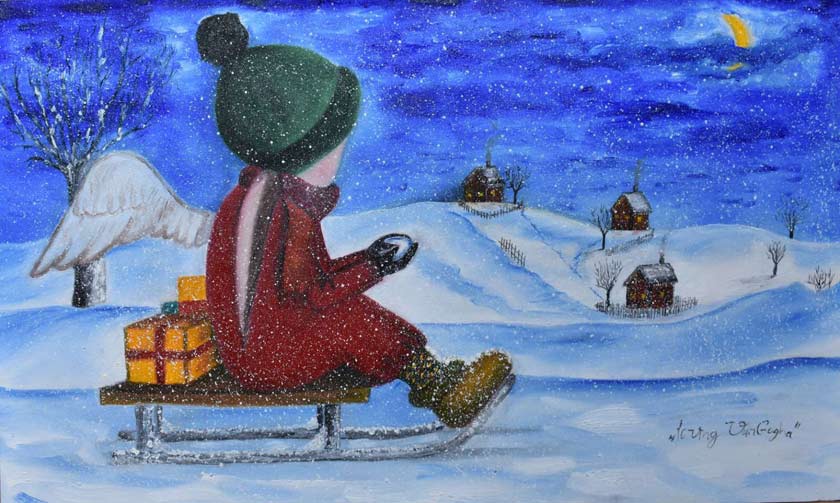 After getting to know the life and work of great artists, many artists have influenced me. Among them are artists from old masters to modern artists. However, I have a special relationship with Vincent van Gogh's life and artwork. His creations became the main basis for shaping my tastes. I think that at this stage of my life I am in the process of getting to know great art and finding my own. Improving art skills is not a project, it is a life-long process. Even the best artists never stop learning. Every step I take significantly determines the future of my personality.
I am sure, I will study the almost forgotten painting techniques of the Old Masters. As I read about the course, this curriculum is designed as a complete step-by-step system of both theoretical and practical knowledge from art vocabulary and art materials to how to paint like the old masters using modern materials. I will get constructive critique of my artwork by the tutor. This is the best art learning experience you can have without leaving your home. The Old Masters Academy course is the only place where I can learn time-honored oil painting techniques of the Old Masters. No other colleges or universities offer the same curriculum. This is the only course where students can have unlimited personal support by the course tutor for as long as I need.
In my opinion, winning this competition will allow me to gain new experience. My artistic technique, formed at this time, is based only on individual labor. The teacher did not take a direct part in its formation. I think that, winning this competition will greatly enhance my skills and play a big role in shaping my professionalism. It will be a great experience and challenge in my life. However, the desire will remain an unfulfilled dream if I cannot collect enough votes. The vote given by each person, will bring me closer to the goal. After passing this course my artistic abilities will become deeper and more diverse. I would like to thank by my art, each person, who vote and support me at this important stage.
facebook.com/zura.eradze.756
I want to win this Competition and I need your help!
Please vote for me by sharing this page:
---
Discover how to paint like the Old Masters using modern materials!