by Rosily Roberts
For the majority of his life, Rembrandt's main source of income was private commissions for portraits. While Rembrandt did not keep records of his work shop sales, it is estimated by the Rembrandt House Museum in Amsterdam was around 340 guilders. This was the time when a skilled craftsman earned about 250 guilders a year.
He was also able to earn money as a teacher; it is known that he had around 50 pupils who paid him well for a year's tuition. In addition to selling his own art, he acted as an art dealer, selling works by his pupils, as well as a buying and selling an expensive Rubens painting. Based on this, it would be fair to conclude that Rembrandt was an astute and successful businessman, skilled not only in painting, but in managing the financial aspects of his life with his paintings at the core.
Rembrandt was a compulsive, almost addicted, buyer of art, and collected all manner of antiquities, props and weapons which he often used in his paintings. His wife Saskia's family often accused him of squandering her fortune, but he continued regardless. During the 1630s and '40s, well went well for Rembrandt and his family. His workshop produced a very large quantity of paintings, drawings and etchings, and he earned a reputation as one of the best teachers, which ensured that the best pupils came to him to learn. He continued his collecting, filling his house with a breathtaking collection of paintings, prints and rarities.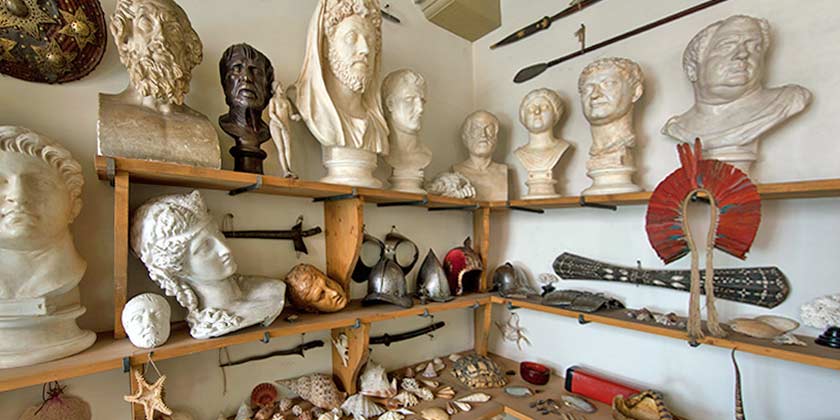 His largest investment was, undoubtedly, the purchase of a sizeable building, which is now the Rembrandt House Museum. He bought the house in 1639, at the height of his fame, for the very high amount of 13,000 guilders, with two thirds being financed by a mortgage. He mixed in the highest circles, and was awarded very prestigious commissions by merchants. The house he had bought fell into disrepair, and few people knew that the famous artist had once lived there. It was only later, between 1908 and 1911, that people realised how important to the history of Amsterdam his cultural inheritance was and thorough restoration saved the building. Since 1911, the house has been used as a museum dedicated to Rembrandt's work. The interior of the house was returned, as much as was possible, to the state it had been in when Rembrandt lived there, including his seventeenth-century furniture and collection of objects.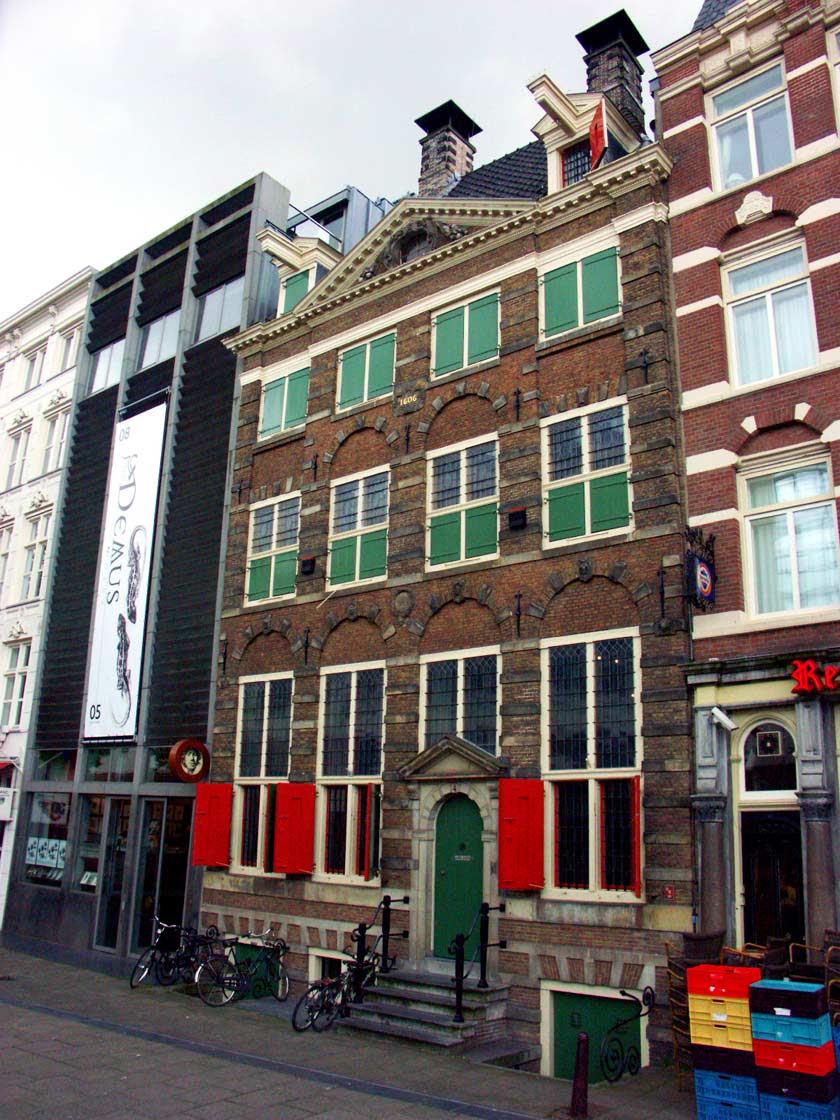 In the 1650s Amsterdam was hit by a serious economic depression and, having stopped paying his mortgage in 1640, Rembrandt was increasingly chased by his creditors for the repayments. He faced the impact of a declining art market, and failed to adapt to a change in his elite clients' tastes. In July 1656, the result of his extravagant lifestyle, he was ultimately led to apply for 'cessio bonorum,' a respectable form of bankruptcy which allowed him to avoid imprisonment. However, it meant that all his goods, including a large collection of paintings, were sold off for a very small amount of money. An inventory of his collection conducted before an auction to pay off his debts highlights the breadth of the artist's interests in collecting. He had, in his collection, ancient sculpture, Flemish and Italian Renaissance painting, Far Eastern art, contemporary Dutch works, weapons and armor. Unfortunately, the results of the auction and the sale of his house were disappointing; in 1658, he was forced to move with his family to a much poorer district where, despite everything, he continued to paint.
In the 1660s, continued money problems forced him to sell his first wife's tomb. The art dealer in him couldn't resist putting in an offer for a Holbein that came up for sale, however demonstrating just how addicted he was to buying and selling art. His artistry, however, was unaffected. Arguably, some of his greatest works are from this period, including The Jewish Bride, of 1665-69, which depicts a man and a woman, richly dressed, engaged in a moment of intimacy.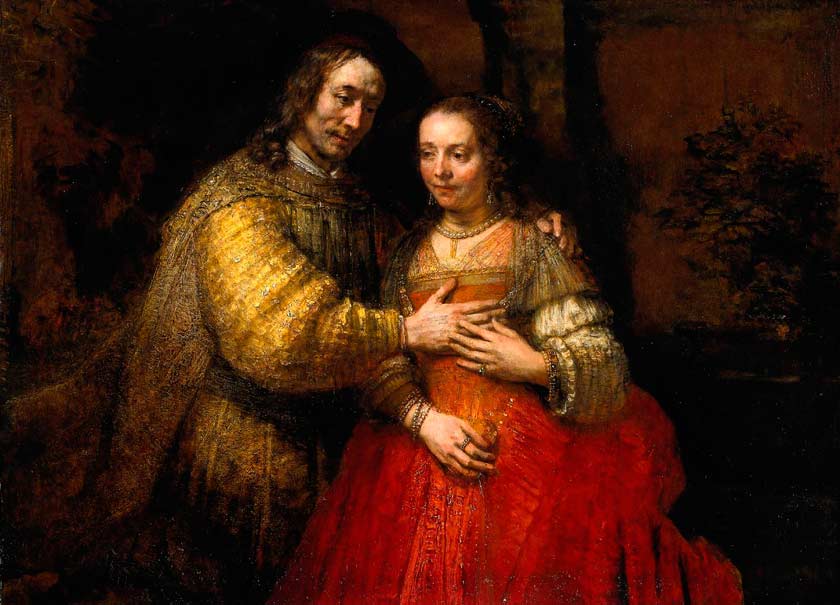 This painting, along with the others from this late stage in his career, were intended for a smaller, more selective audience who would appreciate the idiosyncrasies of the artist and his work. Like the others from this period, this work is characterized by rich, earth tones, often applied in a thick impasto. He has used heavy slashes of paint to create the texture of the woman's skirt, with smaller and more delicate highlights of white and gold for her rings. His work Jacob Blessing the Sons of Joseph from 1656, which depicts a scene from the Old Testament, is painted in a similarly dramatic impasto. He has also made use of the dramatic chiaroscuro for which he had become known, as well as earthy colours including yellows, browns and reds.
Early in Rembrandt's career, his addictive collecting habits provided him with a wealth of inspiration and ideas for his paintings. He drew on classical and Renaissance sources, as well as those from the history of Flemish art, in his own work. At the end of his life, however, when bankruptcy had taken almost everything else from him, his creativity and artistic talent continued to flourish regardless.
References:
'Rembrandt, 1606-1669,' The National Gallery,
nationalgallery.org.uk/artists/rembrandt
'Meet Rembrandt,' Rembrandt House Museum,
rembrandthuis.nl/meet-rembrandt/rembrandts-house/?lang=en
---
Learn time-honored oil painting techniques of the Old Masters!
What you will get: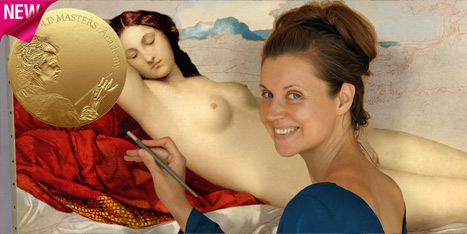 Instant access to all 60 multi-part video lessons
A lifetime membership
Personal coaching by the course tutor
Constructive critiques of your artworks
Full access to the Art Community
Exhibition space in the Students Gallery
Members-only newsletters and bonuses
Old Masters Academy™ Diploma of Excellence
How you will benefit: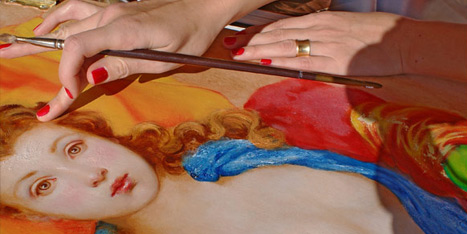 The Old Masters Academy™ course is very comprehensive, yet totally beginner friendly. All you need to do is watch video lessons one by one and use what you've learned in your creative projects. You will discover painting techniques of the Old Masters. This is the best art learning experience you can have without leaving your home. All information is delivered online, including personal support by the course tutor.
Learn how to paint like the Old Masters!
Old Masters Academy Online Course
Self-study, self-paced online video course Lifetime membership One-time payment:
$487
Enroll Now!
Personal Tutoring online + Online Course
Unlimited tutoring by the Academy teachers Lifetime membership One-time payment:
$997
Enroll Now!