Artwork by Lucy Ambler
I'm a 27 year old self-taught oil painter. I live in London and i'm trying to make a living solely from art (i.e teaching, commissions, etc). We all know this is a hard hustle! I love painting, it brings me so much peace and it allows for self reflection and expansion in a time where the world is crowding in on our sense of identity.
My challenges at the moment :
– I want to increase my technical ability so that I can really execute the ideas and dreams I have for my artwork, without the financial burden of going back to school and having a formal training.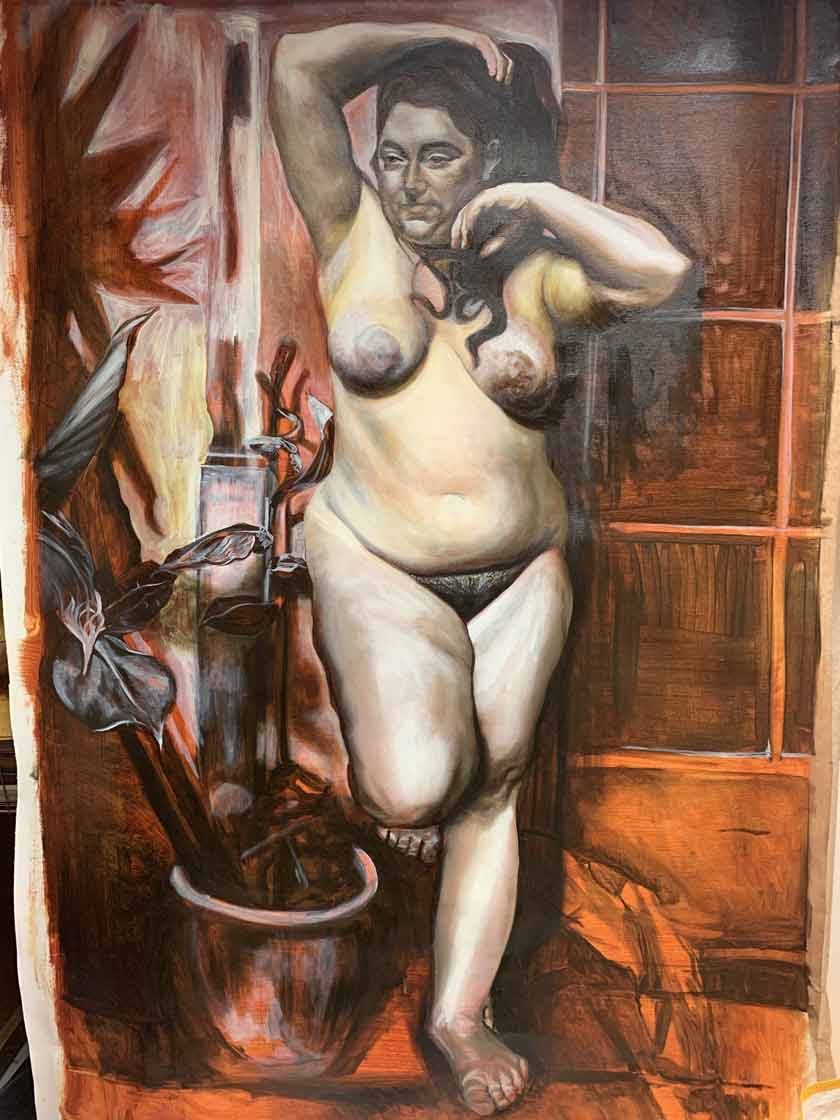 – I have such a hard time completing backgrounds in the more detailed paintings that I try and paint and usually give up before I feel as though the piece is really finished. I would like to be able to paint backgrounds with more skill because they're so important in the overall effect of a painting!
– I want to achieve the life-like quality of the old masters portraits. They had the ability to use technical skill to bring a portrait to life and I would like to learn how to breathe life into my subjects and make the process look somehow 'effortless' which is the real mastery behind the great painters.
From the content I have been able to access so far from the Old Masters Academy, I have been given snap shots of the process that I find so fascinating and its been really interesting to see how academic the course is!
I've learnt everything I know from youtube videos and asking artists about their process. This has its limitations! I am in need of the education the Old Masters Academy provides in order to help me become a professional artist and provide some discipline and structure to my process.
I believe that people should vote for me because I have a real fascination with the Old Masters process and a desire to bring the skills that I learn to my artwork. Finally, I am at a stage where I would like to take my career as an artist more seriously and the Old Masters Academy would really help me to do this.
lucyambler.com
I want to win this Competition and I need your help!
Please vote for me by sharing this page:
---
Discover how to paint like the Old Masters using modern materials!