Paintings by Amy Spitzer
As a child, I was rather shy and solitary and lived in my imagination. I fantasized about the world in rain puddles and beyond the reflection in my bedroom mirror. As I grew up and moved into the real world, my artwork developed from my need to explore my feelings in both worlds.
My parents were not encouraging. My mother wanted me to be a concert pianist. My father was fixed that I would be a doctor. By the seventh grade, when my art teacher told me that I had ruined my project for the art fair by being rather free in my treatment of the background space, I stopped doing any drawing and painting until my early twenties and really didn't think about art.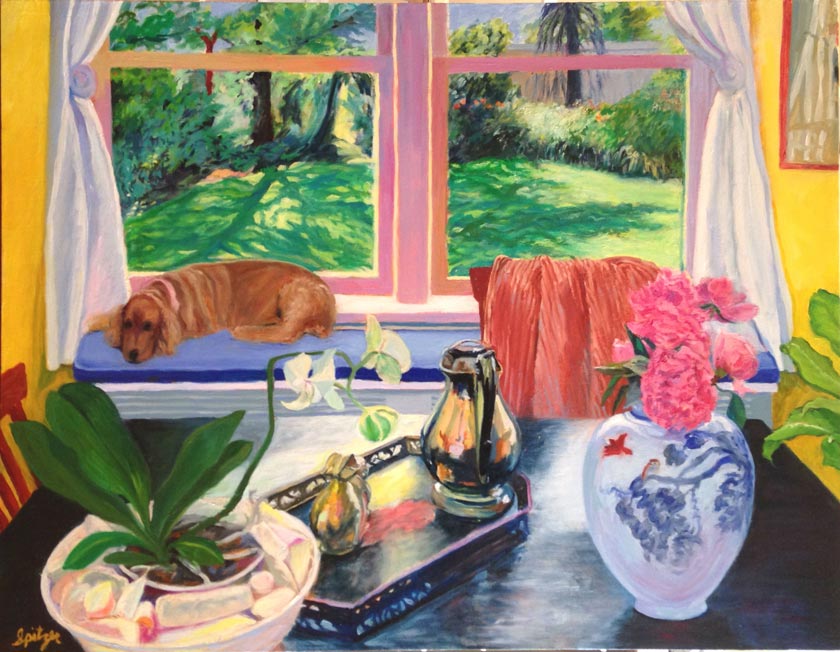 In the first semester of my senior year of college, I went on a foreign studies program to Japan. I took three classes, one of which was Japanese art history. The class captivated me and awakened a new interest in art work, especially painting. I loved sumi-e paintings and wood block prints and went searching to buy old prints. But even more, the design orientation of the society kindled a sleeping passion.
I came back to school in America for my last semester and only took art history classes and independent study in art history. I then prepared to go into the field of art restoration, even apprenticing for a short time with the conservator of American art at the Philadelphia Museum of Art. I needed additional undergraduate credits to apply to programs in this area, but as soon as I took my first studio classes, I knew I was a painter.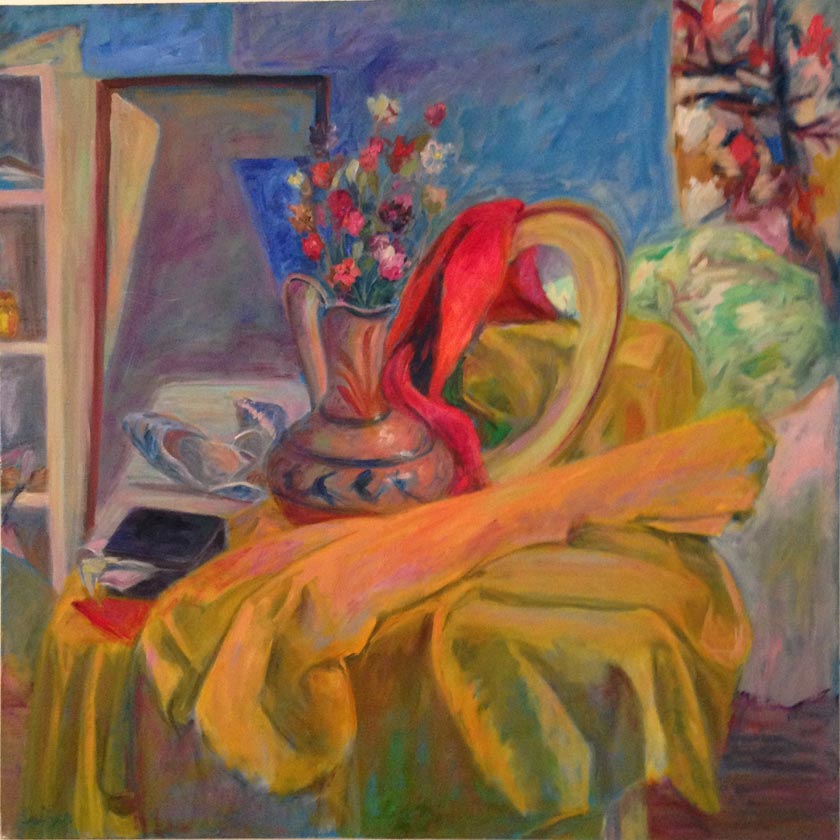 At that time and since, I have had a vision for my work. I am interested in restoring the third dimension to the painting space, and, to accomplish this I have focused on learning and then using the old master methods of indirect painting. My learning in the area is all self-taught through reading, observation and experimentation. Much of 20th century painting had been devoted to emphasizing the two-dimensional space of the picture plane and when I first began to paint, abstraction was still in vogue. Although there were practicing representational painters, for example Edward Hopper and Fairfield Porter among many others, the space in their paintings is still shallow, lacking air, light. I have long studied the work of Rembrandt and Italian Renaissance painters among others toward my goal. At the same time, I have also been a devoted student of Cezanne, Bonnard and Matisse. What I have realized is that my vision is to create a painting that exists as a melding of a three dimensional space and a two-dimensional construct (real and imagined worlds) using a variety of means such as line, overlapping planes, value, color relationships, atmospheric perspective, patterning, shape-state, the properties of oil paint (transparent vs. opaque, texture) to name just a few. My vision can never be completely realized, but it is an ideal to work toward.
I have described the technical aspect of my quest, but not my motive. Life is wonderful and joyous and tragic and an epic battle for survival. We live our daily lives from one moment to the next; experience a myriad of pleasures and struggles, ups and downs, usually without much reflection or even noticing how we are feeling. But when we look at a piece of art, an art of truth, we see our life reflected back in a way that hits our core and floods us with the feeling of living, integrated and whole. I create this world of mine not only as a place for me to be fully awake and alive, but for others to inhabit as well.
My career has been difficult. I have taken private study with respected teachers, classes at Wellesley College, the School of the Art Institute of Chicago and Highland Park Art Center and Evanston Art Center, where I currently study figure sculpture on a scholarship. And two and a half years ago, I enrolled in the Anatomy Master Class in February of 2016. I have painted in between part time and full time work. I have painted when my children were in school. I have shown in a number of juried shows across the country and had a one-person show at a local library. In 1999 I was looking for gallery representation, and on trip to Paris, I found a gallery in the Marais that was interested in showing my work in a group show in spring of 2000.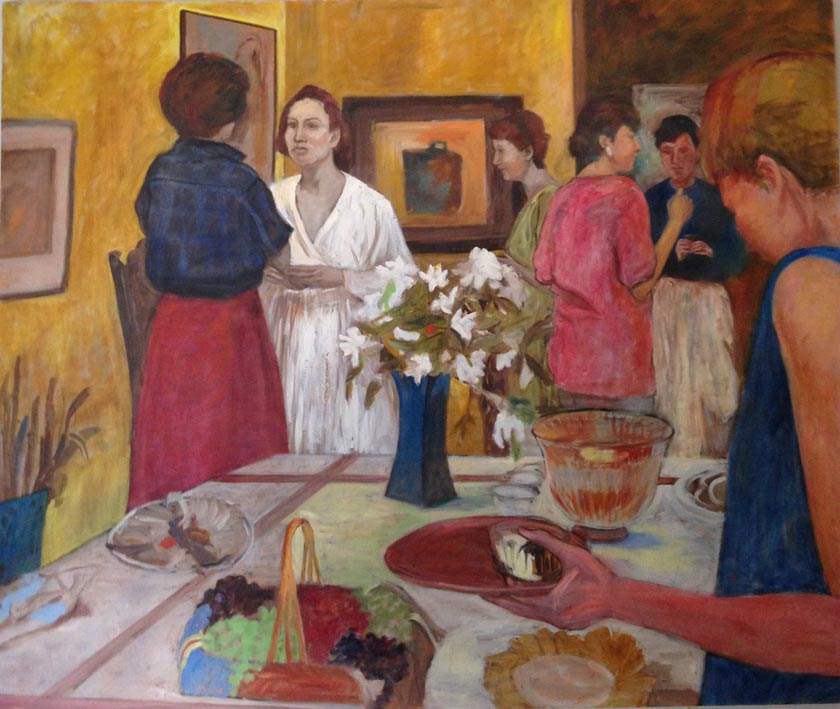 But that was not to be. My marriage was in trouble and within 9 months my husband had left, and I had to close my studio and stop painting to support and care for my children. I was devastated on a number of fronts. I will not go into the many catastrophes of that and ensuing years. I held many jobs and started several businesses. I didn't paint for sixteen years. Finally in January of 2016, I came into a small sum of money, and in March of that year I was able to take social security. I chose to try to revive my dream and paint again.
For me painting is like breathing. Without doing it, I am not a healthy person. I cannot be whole, happy. There have been other times when I had to stop. I have always come back. It has been just a few months over two years since I started working again. It has been painful in some ways. I lost so much of my skills and had to relearn much of what I already knew. But nothing is lost and much was gained in the years I didn't work. My vision matured as did I. I have exhibited isolated pieces in a few shows. I live in a different community, a thriving artistic community and I have found peers with whom I can share ideas and the love of this work. I even have been asked to be part of a two-person show in the fall.
After finishing the work for that show (and a little rest) I will begin a series of large multi-figure paintings of celebrations. There is one that I did before I had to stop painting that is on my website, but it remains unfinished. I have a plan for a new series. If I win this contest, your course will be a great help to me in painting that series along with the work for my show in the fall and all of the paintings I will do for the rest of my life.
I am 67 years old and starting my dream again. All I have wanted since my twenties (other than having my children) was to paint. I continue to study anatomy from your video lessons from the Anatomy Master Class and they are wonderful. I will use them forever. That was my first purchase when I went back to painting. I have also watched more than once every free video you offer, including the ones for the Old Master Academy, and they have all helped me. I can't afford that class now, but if I'm fortunate enough to win this contest, I know your class will play an important part in my journey.
amyspitzer.com