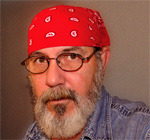 Dorian Vincent Scotti
My very first painting caused quite a stir. Apparently it required a few hours work to clean off and resulted in my cradle being moved away from the walls of my first bedroom!
I was born in NYC, but grew up in Silvermine, CT, an artist's enclave just outside New York. I have drawn and painted my entire life and began my college education as a fine arts major, but switched to graphic design after 2 years. I've been employed as a graphic designer for over 30 years and, while I have worked in almost every discipline in my industry, I have been primarily a publication art director. My work has won over 40 awards and been featured in numerous design publications…
The Old Masters Academy program took me back to basics and using the techniques of old masters, gave me a sounder grounding in process and confidence that when I start a painting I know how to take it where I want it to go.